Homemade Halloween Candy Corn Recipe

I know it's a controversial topic but, we're going there… Candy Corn is delicious, or candy corn should be banned? It's delicious, of course! If you're in the pro-candy corn camp, Have you ever tried to make it yourself? Did you even know you could?

It takes a lot of steps to make, but it isn't hard to do.

This Fall treat is made with light corn syrup, butter, sugar, vanilla extract, powdered sugar, salt, powdered milk, yellow food coloring, and orange food coloring. It's takes a lot of steps to make, but it's not as hard as you would think.

This is a great project to do with the kids!

I took the time to smooth out the edges to make them more like the original store-bought version, but it isn't necessary in the least. It took me a really LONG time to do it, and I wouldn't do it again. Who needs rounded edges anyway!

Similar Recipes
Dessert Recipes

Kid Friendly Recipes

Fall Recipes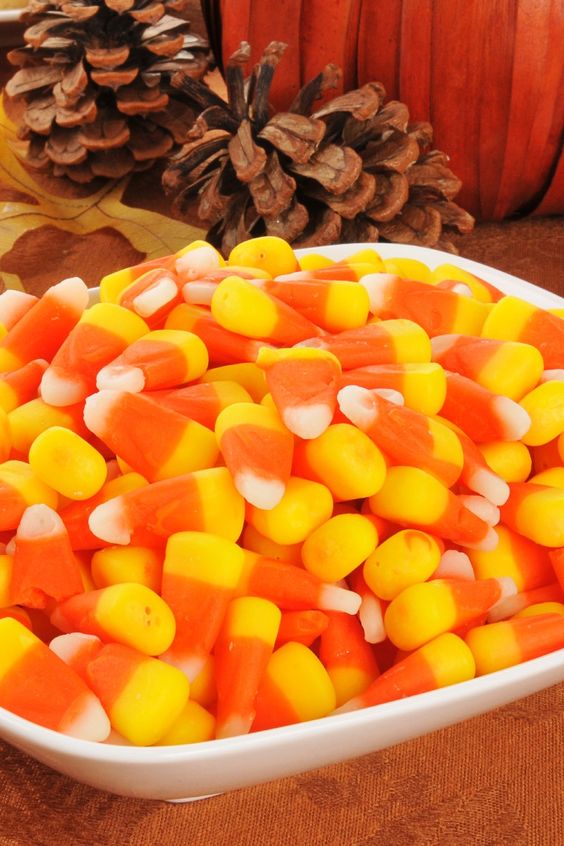 Affiliate Disclosure: Some links provided may be affiliate links where I may earn a commission if you purchase something after clicking on a link. No extra cost is added to you. Also, as an Amazon Associate, I earn from qualifying purchases made through links.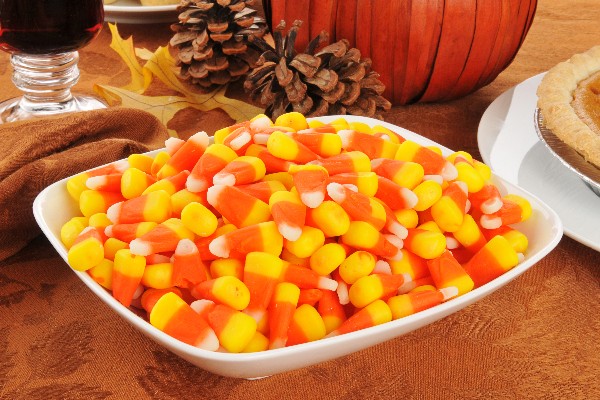 If you need to change the amount of servings the recipe will make, click on the number of servings in the section under the "Print Recipe" bar, and move the slider up or down to change the number of servings you want. Or to double or triple the recipe, click on the 2x or 3x next to "Ingredients".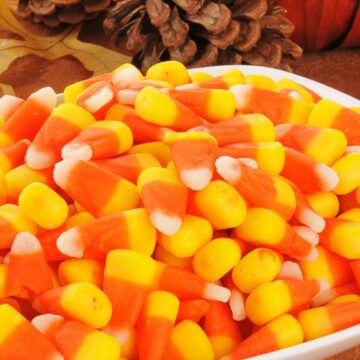 Homemade Halloween Candy Corn
Homemade Halloween Candy Corn Recipe. Do you love Candy Corn? Why not make it at home? It's takes a lot of steps to make, but it's not as hard as you would think. This is a great project to do with the kids!
Instructions 
Prepare a flat surface by lining with waxed paper.

In a medium sized saucepan over medium/high heat, add butter, corn syrup, and sugar. Stir to mix.

Stir continuously and bring to a boil.

Reduce heat to low and stirring often, simmer for 5 minutes, or until a candy thermometer reads 230° F.

Take pan off of heat and stir in the vanilla.

In a large mixing bowl, add powdered sugar, powdered milk, and salt. Stir to mix well.

Using a wooden spoon, stir wet mixture into the dry mixture.

Turn out dough onto wax paper.

When dough is cool enough to handle, knead well to fully combine ingredients.

Separate into 3 equal portions.

Using your thumb press down the center of two of the portions to create a "bowl".

Add a few drops of orange food coloring into one of the "bowls" and yellow into the other. Knead to distribute the color evenly.

Roll each portion into skinny ropes.

Place the ropes next to each other with the white first, the yellow in the middle and then the orange.

Press lightly to flatten the ropes and to connect them.

Using a sharp knife, cut triangle shapes to create candy corn shape.

Store in an airtight container.
Notes
Yields: 1 3/4 pounds of candy
Nutrition
Serving:
40
g
Calories:
90
kcal
Carbohydrates:
18.5
g
Protein:
0.32
g
Fat:
2
g
Saturated Fat:
1.2
g
Cholesterol:
5.5
mg
Sodium:
35.3
mg
Sugar:
15.3
g
You May also Like: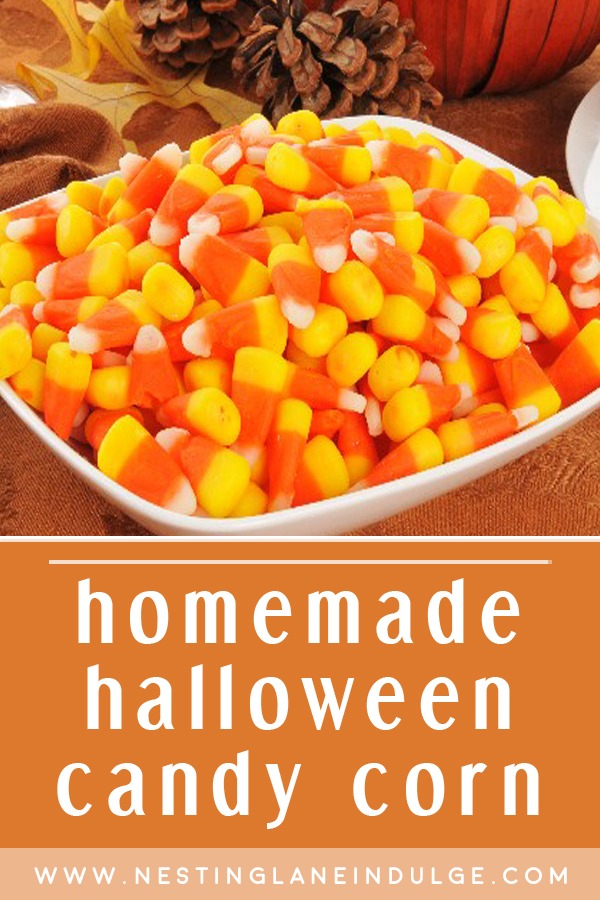 <