Nutmeg Sweet Potato Gnocchi Recipe
This recipe is a twist on everyone's favorite Italian dish, Gnocchi! Nutmeg and sweet potatoes give this dish an extra kick, and the end result is a flavorful, healthy meal that you can enjoy guilt-free.

I'm not sure if I've ever seen a more perfect fall or winter dish than this one. Gnocchi is usually made with potatoes, but sweet potato gnocchi are the best because they're sweeter and have that perfect fall flavor. It's also much healthier for you!

Made with sweet potatoes, garlic, ground nutmeg, salt, egg, and all-purpose flour.

Nutmeg adds just enough spice to make the whole thing taste like Thanksgiving dinner without any of the guilt.
What is Gnocchi
Gnocchi is a type of Italian dumpling made from flour, eggs and cheese. It originated in Italy and was traditionally cooked with just potato and semolina but modern variations can include any number of ingredients such as spinach, mushrooms, sausage, bacon or sweet potatoes.

They are a staple food in many regions of Italy, especially in the northern regions.
Similar Recipes
Side Dish Recipes

Vegetarian Recipes

Italian Recipes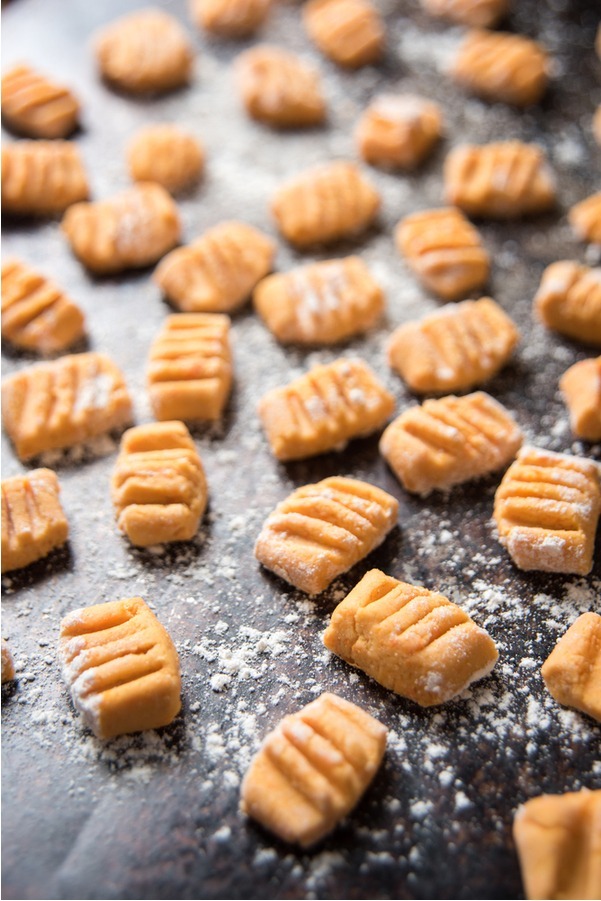 Affiliate Disclosure: Some links provided may be affiliate links where I may earn a commission if you purchase something after clicking on a link. No extra cost is added to you. Also, as an Amazon Associate, I earn from qualifying purchases made through links.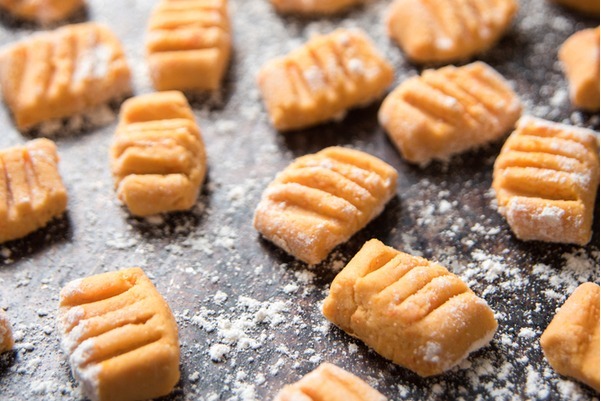 If you need to change the amount of servings the recipe will make, click on the number of servings in the section under the "Print Recipe" bar, and move the slider up or down to change the number of servings you want. Or to double or triple the recipe, click on the 2x or 3x next to "Ingredients".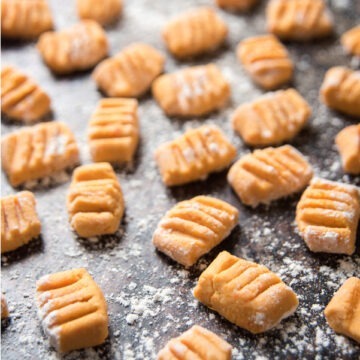 Nutmeg Sweet Potato Gnocchi
Nutmeg Sweet Potato Gnocchi Recipe. A classic Italian side dish recipe with a twist. A great Fall recipe to celebrate the season of Sweet Potatoes. Nutmeg adds just enough spice to make the whole thing taste like Thanksgiving dinner without any of the guilt.
Instructions 
Place sweet potatoes on a baking sheet.

In preheated oven, bake for 30 minutes, or until the potatoes are soft.

Take out of oven and set on a cooling rack to cool.

When cooled enough to handle, take off potato peels , place in a large mixing bowl.

Using a potato masher, mash well.

Add nutmeg, garlic, salt, and egg, Mash to combine well.

Add in flour a little at a time, mixing in between, until a soft dough forms. You may not need all of the flour, or you may need more.

Fill a large pot with water, lightly salt, and place over medium/high heat. Bring to a boil.

In the meantime, flour a flat surface, turn out the dough, and divide dough to several sections. Roll dough to cream long ropes.

Cut ropes in 1 inch pieces. Lightly press the back of a fork into the top of each piece to create lines.

When water is boiling, carefully drop the dough pieces in and cook until they float to the top.

Using a slotted spoon, take the gnocchi out of the water and place in a serving dish.

To serve, serve with a cream sauce, or butter.
Nutrition
Calories:
364.1
kcal
Carbohydrates:
71.1
g
Protein:
9.9
g
Fat:
2.1
g
Saturated Fat:
0.6
g
Cholesterol:
46.5
mg
Sodium:
372
mg
Potassium:
470.5
mg
Fiber:
5.2
g
Sugar:
5.1
g
Calcium:
52.3
mg
Iron:
3.8
mg
You May also Like: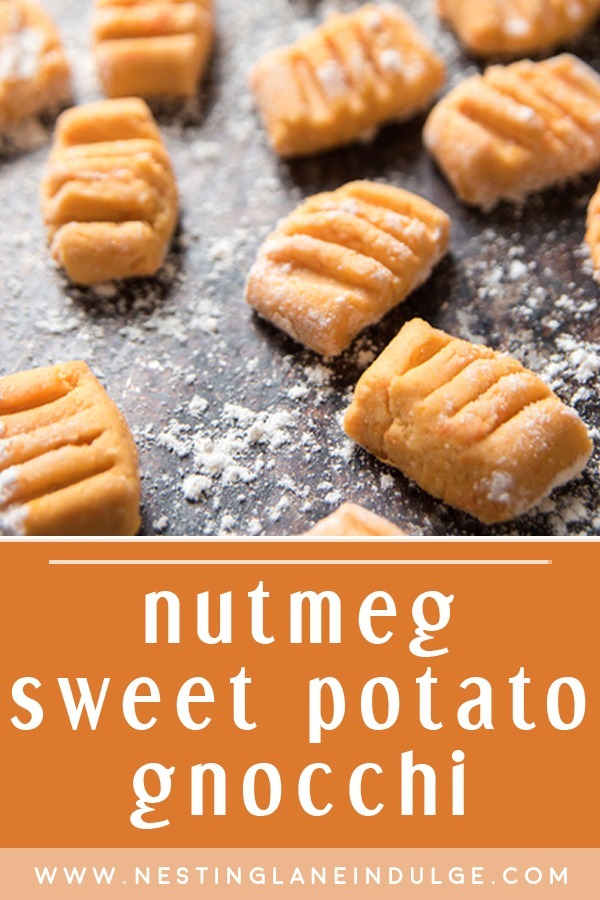 <