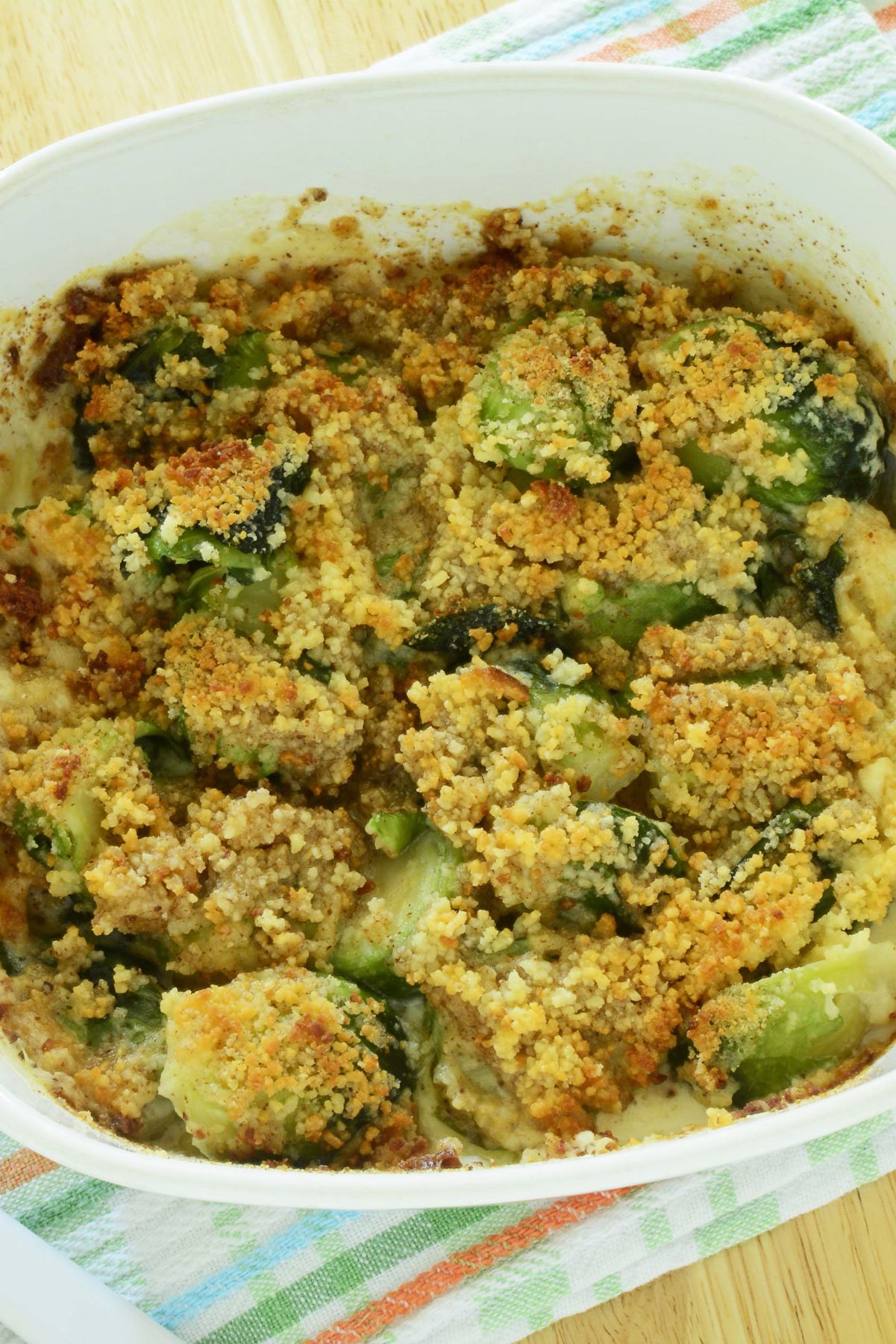 Bacon Parmesan Brussels Sprout Gratin Recipe


Bacon Parmesan Brussels Sprout Gratin Recipe. Indulge in the irresistible flavors of this side dish recipe.

This delectable dish combines tender Brussels sprouts, crispy bacon, creamy Parmesan cheese, and a golden breadcrumb topping. Elevate your meals with this flavorful delight that will leave everyone wanting more.
Brussels sprouts take center stage, joined by smoky bacon, creamy Parmesan, and a satisfying crunch from the breadcrumb topping.

Prepare the ingredients and follow the steps to create this mouthwatering dish that is sure to impress your guests.


Related Recipes

Grilled Garlic Parmesan Zucchini

Bacon And Parmesan Risotto (Comfort Food At Its Finest)

Penne With Broccoli And Garlic Cheese Sauce






Affiliate Disclosure: Some links provided may be affiliate links where I may earn a commission if you purchase something after clicking on a link. No extra cost is added to you. Also, as an Amazon Associate, I earn from qualifying purchases made through links.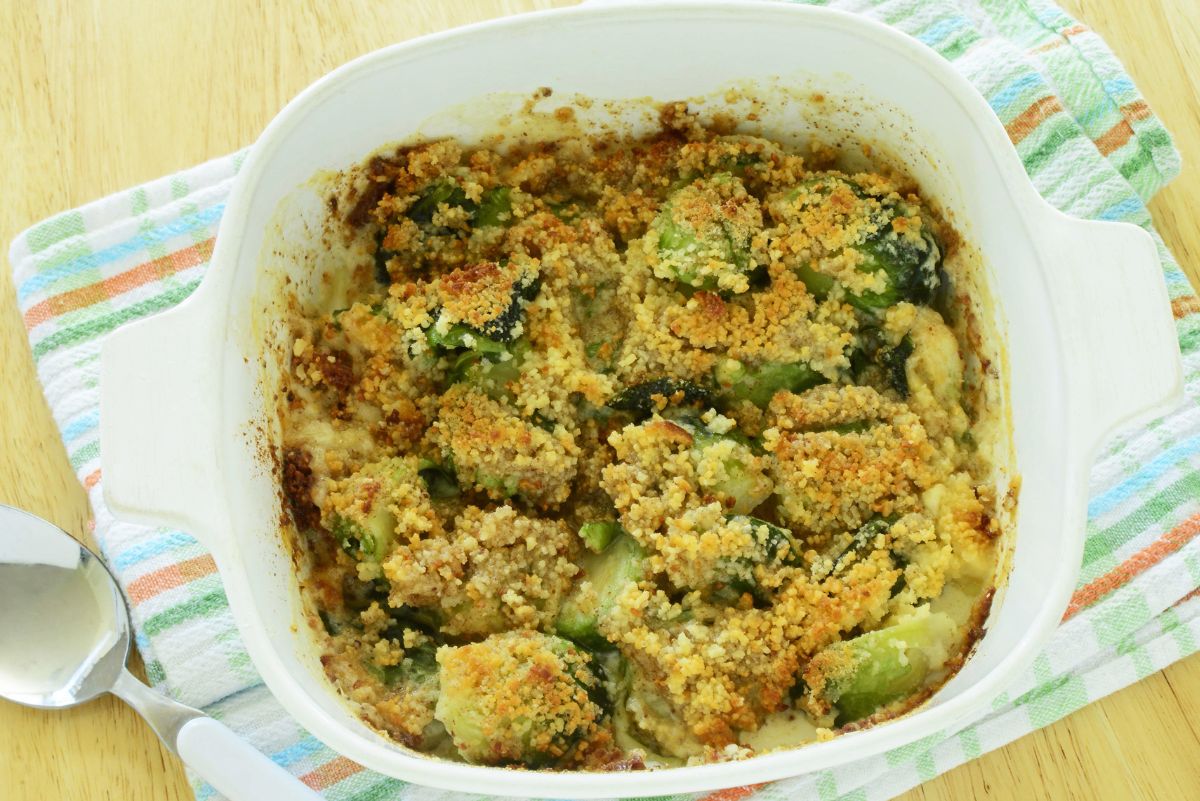 If you need to change the amount of servings the recipe will make, click on the number of servings in the section under the "Print Recipe" bar, and move the slider up or down to change the number of servings you want. Or to double or triple the recipe, click on the 2x or 3x next to "Ingredients".


FAQs
Can I use frozen Brussels sprouts for this recipe?
Yes, frozen Brussels sprouts can be used. Thaw and drain them thoroughly before incorporating them into the dish.
Can I make this dish ahead of time?
Absolutely! Prepare the gratin in advance and refrigerate it until you are ready to serve. Follow the recipe's instructions for baking.
How should I store leftovers?
To store any remaining Brussels sprout gratin, place it in an airtight container and refrigerate. Reheat before serving.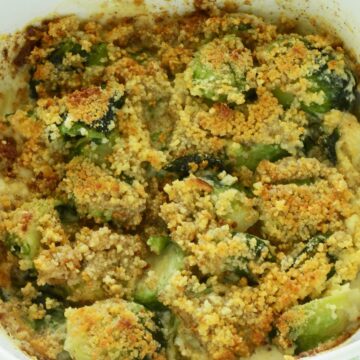 Bacon Parmesan Brussels Sprout Gratin
Bacon Parmesan Brussels Sprout Gratin recipe. It's a delicious combination of tender sprouts, crispy bacon, creamy Parmesan, and a golden breadcrumb topping. Perfect as a side dish!
Instructions 
Fill a big pot with water and add a little salt. Put it on the stove and turn the heat up until it boils.

Put the Brussels sprouts into the boiling water. Let them cook without a cover until they become soft, which takes about 8 minutes.

Use a strainer to drain the cooked Brussels sprouts. Then put them in a bowl filled with ice water. Leave them there for a few minutes until they become cold. This helps to stop them from cooking further. Once they are cold, take them out of the water and let the excess water drain away. Cut the Brussels sprouts into halves or quarters depending on their size. Put them aside.

In a big, deep frying pan, put the bacon and cook it on medium-high heat. Turn the bacon occasionally until it becomes soft and lightly browned, which usually takes about 5 minutes.

Reduce the heat of the frying pan and add the Brussels sprouts to it. Sprinkle some salt and pepper on them. Stir everything together for about 1 minute so that the Brussels sprouts get evenly seasoned.

Take the prepared baking dish and arrange the cooked bacon and Brussels sprouts on it.

Pour the cream evenly over the Brussels sprouts in the baking dish.

Sprinkle breadcrumbs and Parmesan cheese on top of the Brussels sprouts.

Cut the butter into small pieces and distribute them over the breadcrumbs.

Put the baking dish in the preheated oven. Bake it until the Brussels sprouts turn golden brown and everything is heated through. This usually takes around 20 to 25 minutes.
Nutrition
Calories:
312.4
kcal
Carbohydrates:
15.8
g
Protein:
8
g
Fat:
25.4
g
Saturated Fat:
13.7
g
Cholesterol:
69.9
mg
Sodium:
625.1
mg
Potassium:
432.4
mg
Fiber:
3.3
g
Sugar:
0.5
g
Calcium:
130.6
mg
Iron:
1.8
mg
You May also Like: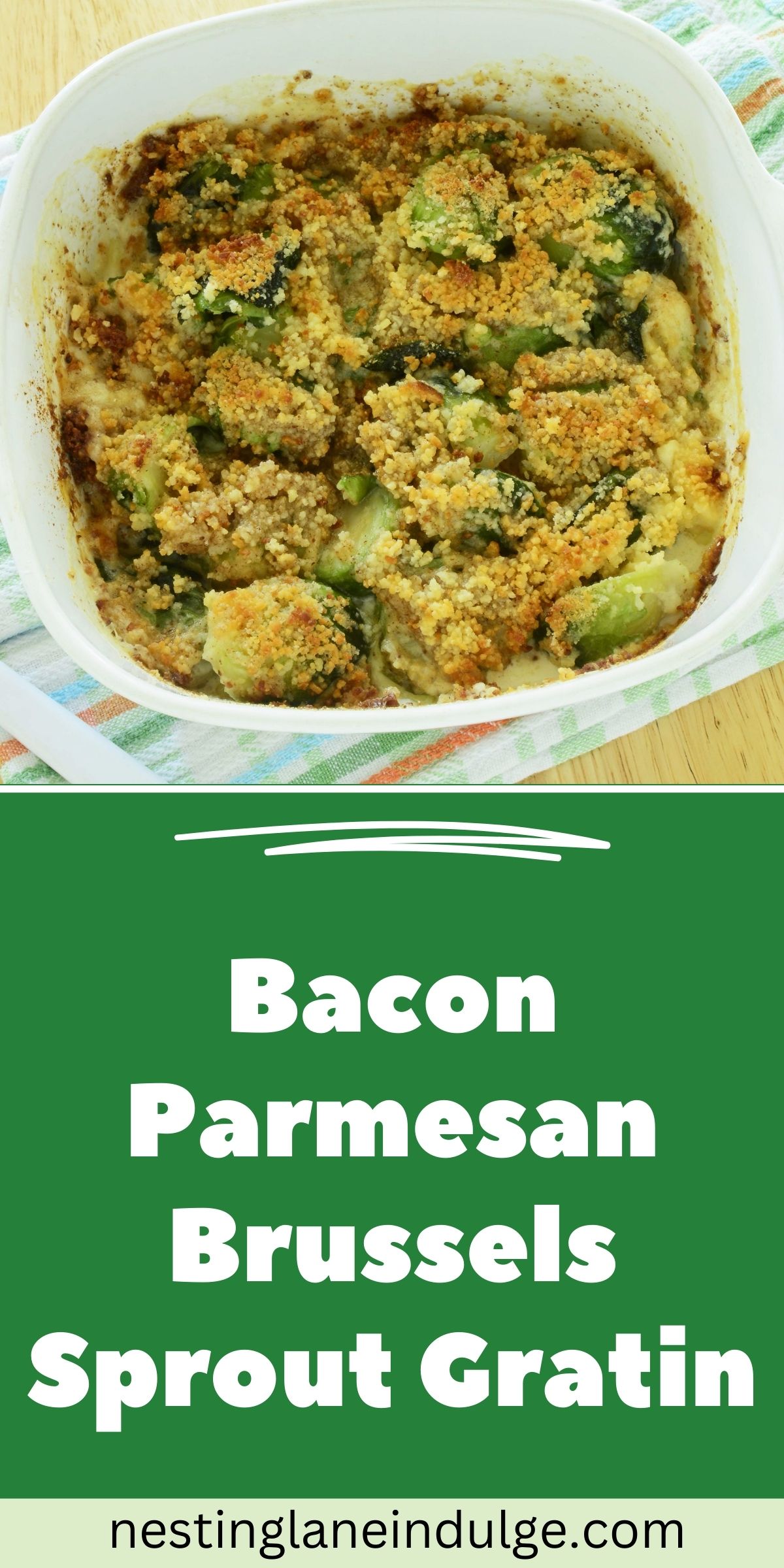 <