How to Make Homemade Butter Noodles Recipe



How to Make Homemade Butter Noodles Recipe. Are you looking for a dinner idea that is easy to make, budget-friendly, and family-friendly? Then you'll want to try this delicious homemade pasta!
They are made with simple ingredients you probably have in your pantry right now.
They're freezer-friendly, so you can make a big batch and save some for later making it perfect for busy weeknights when you need something quick and satisfying.
Not only is this recipe easy to make and freezer-friendly, but it's also budget-friendly. You can use affordable ingredients that are easy to find at your local grocery store.
Since it's a versatile recipe, you can customize it to your liking by adding in any veggies you have on hand.
So, if you're looking for a delicious and easy dinner idea that's perfect for the whole family, give this freezer-friendly pasta dish a try!
It's a great way to enjoy a satisfying meal without breaking the bank.


Related Recipes

How To Make Homemade Egg Noodles

Beef Burgundy Over Egg Noodles

Quick Asian Sesame Garlic Noodles






Affiliate Disclosure: Some links provided may be affiliate links where I may earn a commission if you purchase something after clicking on a link. No extra cost is added to you. Also, as an Amazon Associate, I earn from qualifying purchases made through links.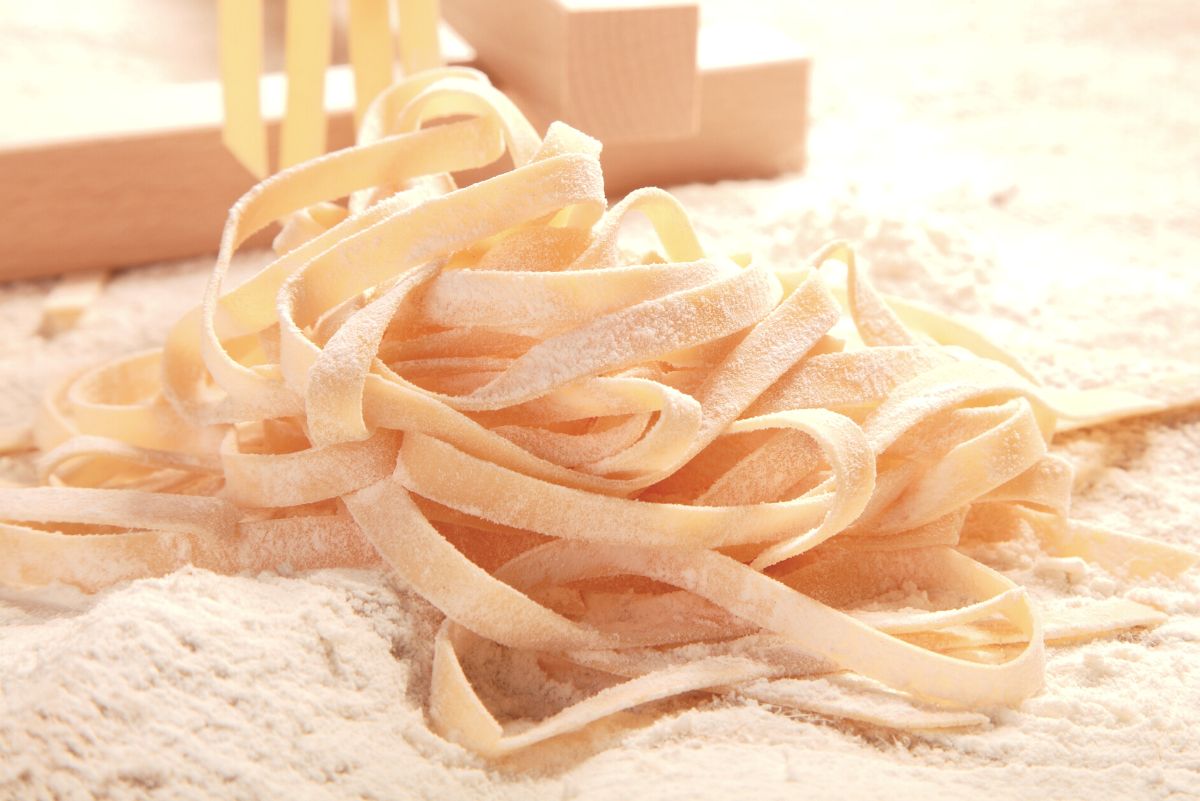 If you need to change the amount of servings the recipe will make, click on the number of servings in the section under the "Print Recipe" bar, and move the slider up or down to change the number of servings you want. Or to double or triple the recipe, click on the 2x or 3x next to "Ingredients".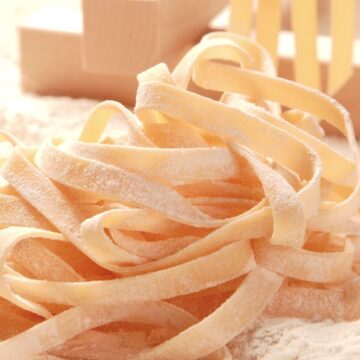 How to Make Homemade Butter Noodles
An easy, freezer friendly homemade pasta the whole family will love.
Instructions 
Begin by cracking the eggs into a large bowl.

Using a wire whisk, whisk the eggs and melted butter together until fully combined.

Add the flour, baking powder, and salt to the bowl and stir until the dough becomes stiff.

Knead the dough on a lightly floured surface or in the bowl for a few minutes until it's fully blended.

Divide the dough into thirds.

On a lightly floured surface, roll each third into a sheet that's about 1/16 of an inch thick.

Place each sheet onto a dry cloth and set aside for 30 to 45 minutes to partially dry.

After the noodle sheets have dried somewhat, roll up one at a time into a loose spiral

Using a sharp knife, cut the spiral into strips as wide as you want.

Spread out the noodles to dry for about 1 hour before cooking or storing in freezer containers.
When Freezing
If storing in freezer containers, remember to thaw before using.
To Cook:
To cook the noodles, bring a pot of water or broth to a rapid boil.

Drop the noodles into the boiling liquid and cook for 7 to 10 minutes or until they are tender.
Nutrition
Calories:
254.4
kcal
Carbohydrates:
30.1
g
Protein:
7.3
g
Fat:
11.5
g
Saturated Fat:
6.3
g
Cholesterol:
115.9
mg
Sodium:
702
mg
Potassium:
78
mg
Fiber:
1.1
g
Sugar:
0.3
g
Calcium:
34.5
mg
Iron:
2.3
mg
You May also Like: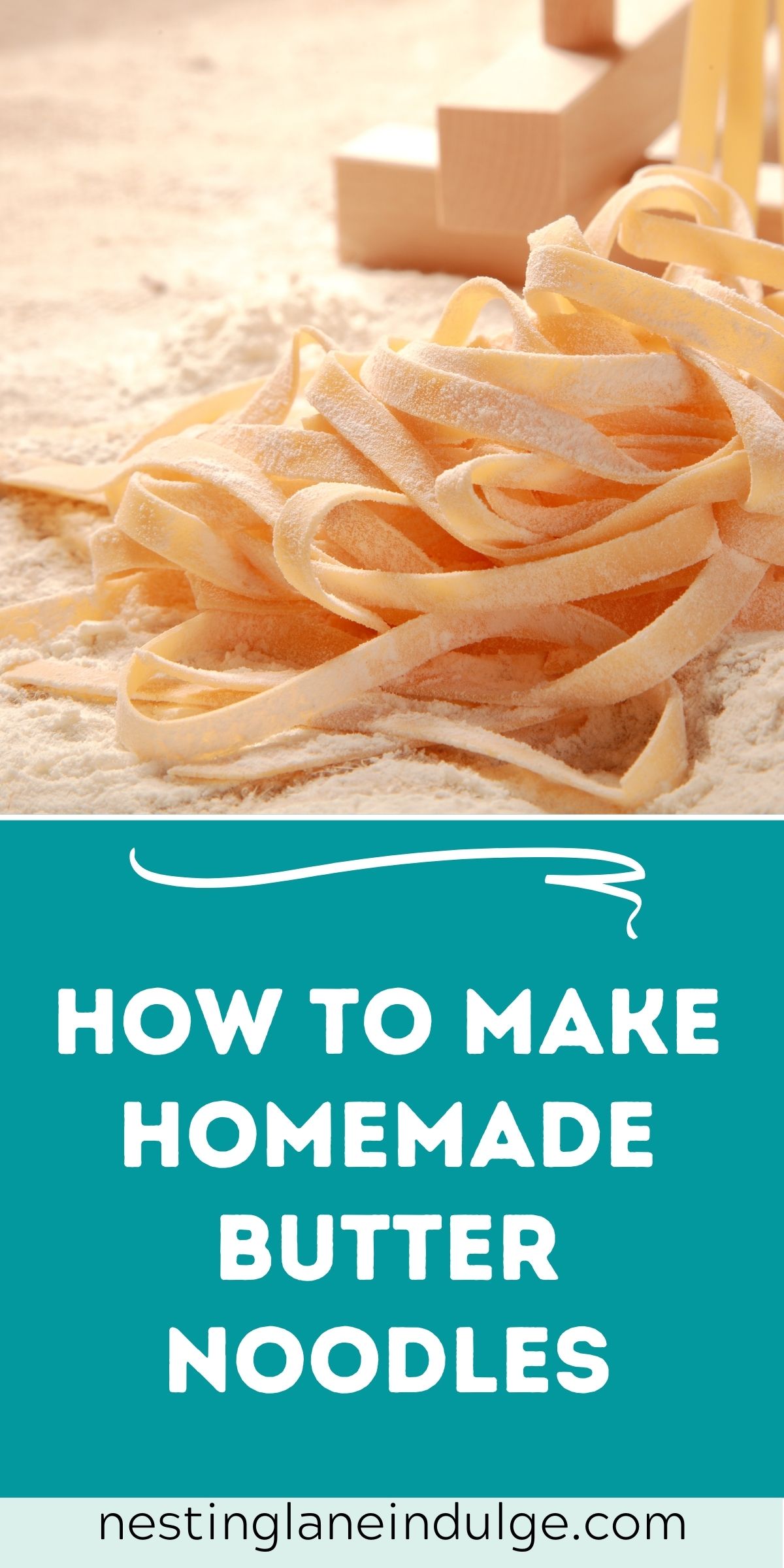 <