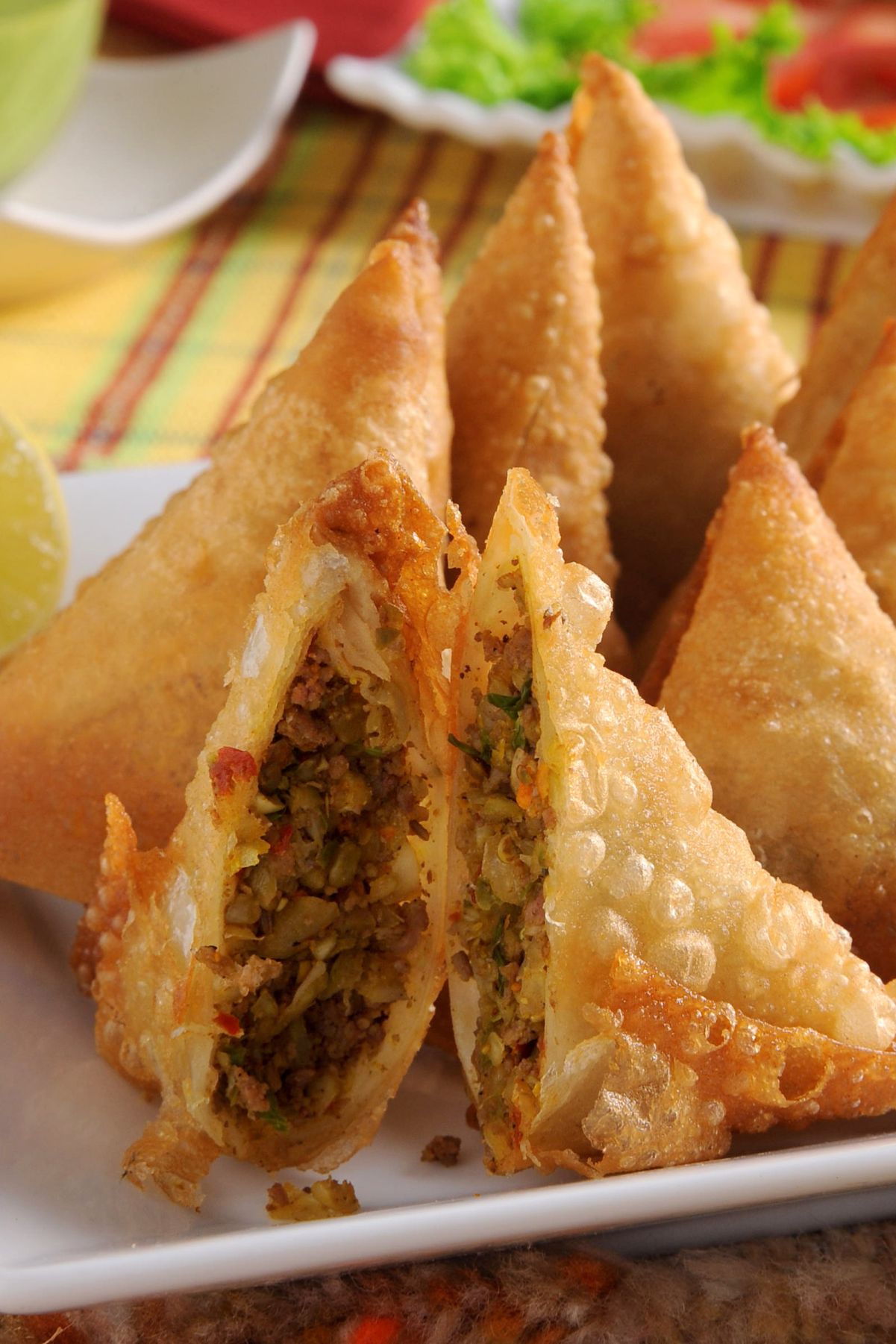 Spicy Ground Beef Samosas Recipe



Spicy Ground Beef Samosas Recipe. Get ready for a flavor explosion with these Samosas! A fantastic appetizer, this South Asian delight is perfect for gatherings or even just a fun and tasty dinner.

Imagine biting into a crispy wonton wrapper, revealing a scrumptious blend of juicy ground beef, vibrant peas, and a medley of aromatic spices that will leave you wanting more.

These samosas are all about the flavors, and the ingredients truly shine through. The rich ground beef and sweet peas make a delectable filling, while the combination of spices like coriander, cumin, turmeric, chile powder, and ginger gives it that signature South Asian taste.

Adding jalapenos and garam masala brings a touch of heat, and a squeeze of lemon juice adds the perfect zesty finish.

No need to worry about complicated cooking methods here; these samosas are surprisingly simple to prepare.

You'll find that the process of filling and folding the wonton wrappers is not only easy but also quite enjoyable. In no time, you'll have a plate full of golden, crispy, and utterly irresistible samosas that everyone will love.

So, gather your ingredients, roll up your sleeves, and let's embark on a culinary journey filled with exciting flavors and aromas.

Trust me, these Spicy Ground Beef Samosas will be a hit at your next dinner party or just a memorable meal at home!


Related Recipes

Homemade Chinese Ground Beef Egg Rolls

Stuffed Peppers With Ground Beef

Mouthwatering Homemade Mexican Beef Enchiladas





Affiliate Disclosure: Some links provided may be affiliate links where I may earn a commission if you purchase something after clicking on a link. No extra cost is added to you. Also, as an Amazon Associate, I earn from qualifying purchases made through links.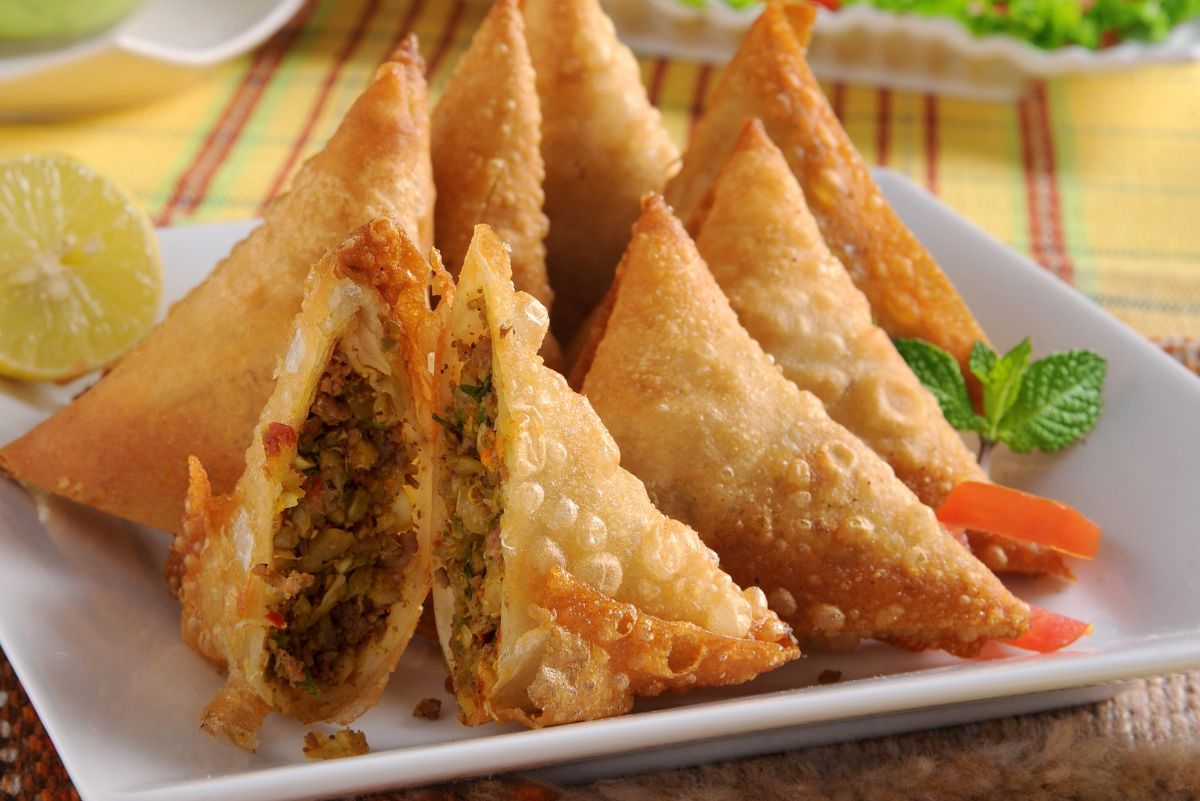 If you need to change the amount of servings the recipe will make, click on the number of servings in the section under the "Print Recipe" bar, and move the slider up or down to change the number of servings you want. Or to double or triple the recipe, click on the 2x or 3x next to "Ingredients".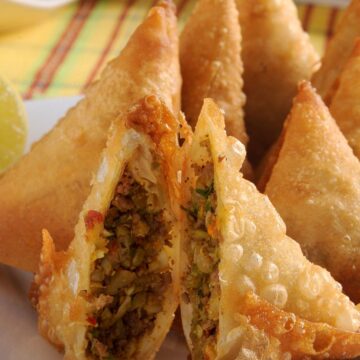 Spicy Ground Beef Samosas
Savor delectable Spicy Ground Beef Samosas, filled with a flavorful beef and pea mixture, seasoned with spices, & fried to crispy perfection.
Instructions 
Place a large skillet on the stove and set the heat to medium.

Put ground beef, onion, and garlic into the skillet.

Cook the mixture until the beef turns brown and crumbly, which should take around 5 to 7 minutes.

Lower the heat to a low setting.

Incorporate coriander, cumin, salt, turmeric, chile powder, and ginger into the mixture.

Add peas and water to the skillet and bring it to a boil.

Cover the skillet and let it simmer, stirring occasionally for approximately 25 minutes.

Uncover the skillet and raise the heat to medium, cooking and stirring frequently until all liquid has evaporated.

Mix jalapenos and garam masala into the beef mixture.

Take the skillet off the heat and blend in the lemon juice.

Allow the mixture to cool until it is safe to handle, waiting at least 15 minutes.

Spoon about 1 tablespoon of the cooled beef mixture onto the center of a wonton wrapper.

Dampen the edges of the wrapper with water, fold them over the filling, and press to seal. Repeat this process with the remaining filling and wrappers.

In a large saucepan, heat about 1/2 inch of oil over medium-high heat.

Fry the samosas in batches, cooking until they are browned on each side, which should take 1 to 2 minutes per side.
Nutrition
Calories:
93.7
kcal
Carbohydrates:
9.9
g
Protein:
5.2
g
Fat:
3.6
g
Saturated Fat:
1.2
g
Cholesterol:
12.7
mg
Sodium:
152.8
mg
Fiber:
0.8
g
Sugar:
0.5
g
Calcium:
14.4
mg
Iron:
1
mg
FAQs
Can I use ground chicken or turkey instead of beef?
Yes, you can substitute ground chicken or turkey for a leaner alternative without compromising on flavor.
Can I make the samosas in advance and freeze them?
Yes, simply prepare the samosas and freeze them before frying. When ready to cook, fry them straight from the freezer without thawing.
What dipping sauce pairs well with these samosas?
A sweet and tangy tamarind chutney or a cool and refreshing mint-cilantro yogurt sauce would complement these Spicy Ground Beef Samosas wonderfully.
Can I make these samosas vegetarian?
Yes, you can replace the ground beef with a mixture of mashed potatoes, diced vegetables, or even crumbled paneer to create a delicious vegetarian filling.
How long can I store cooked samosas?
You can store cooked samosas in an airtight container in the refrigerator for up to 3 days. Reheat them in an oven or toaster oven to maintain crispiness.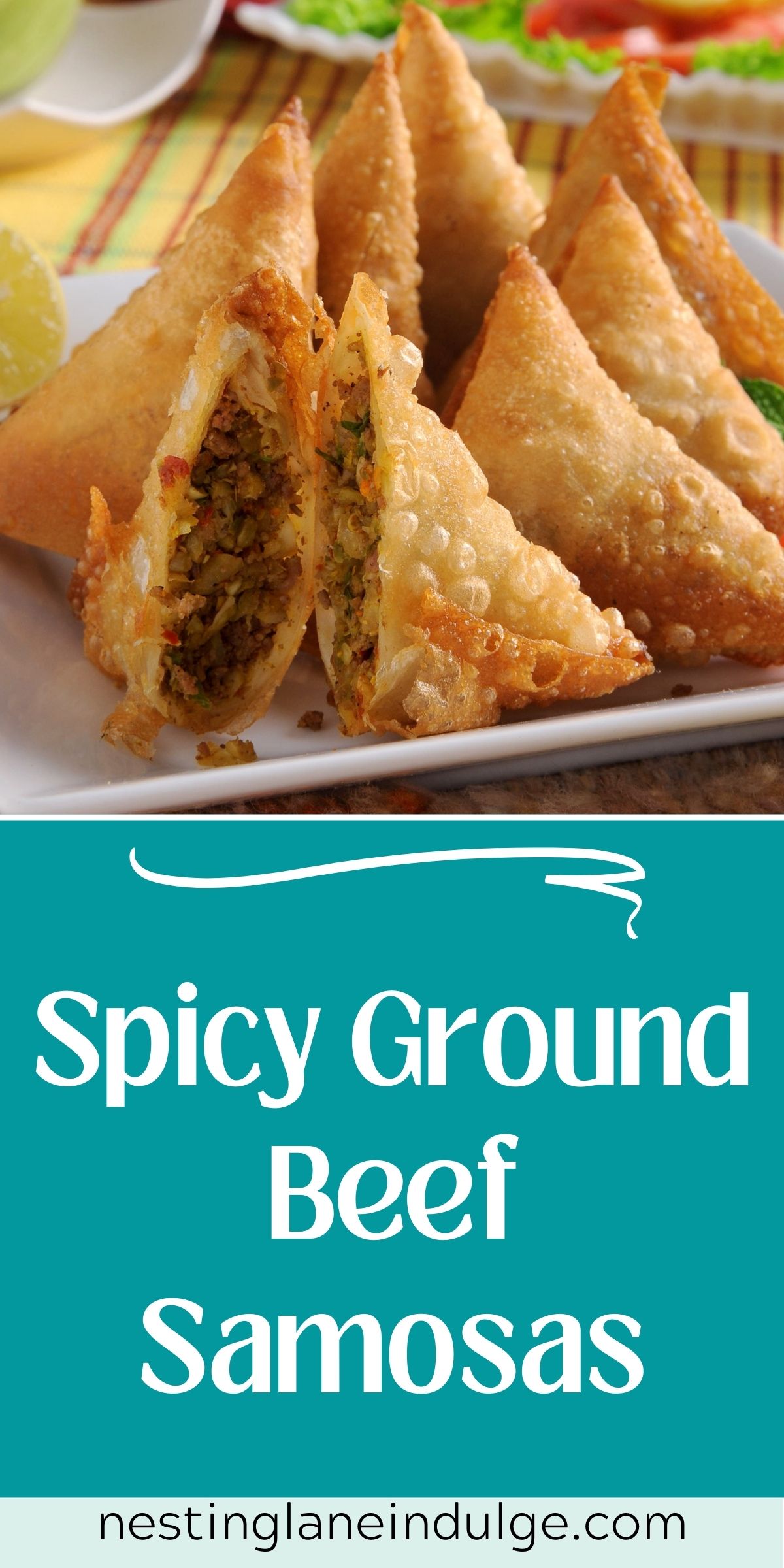 <