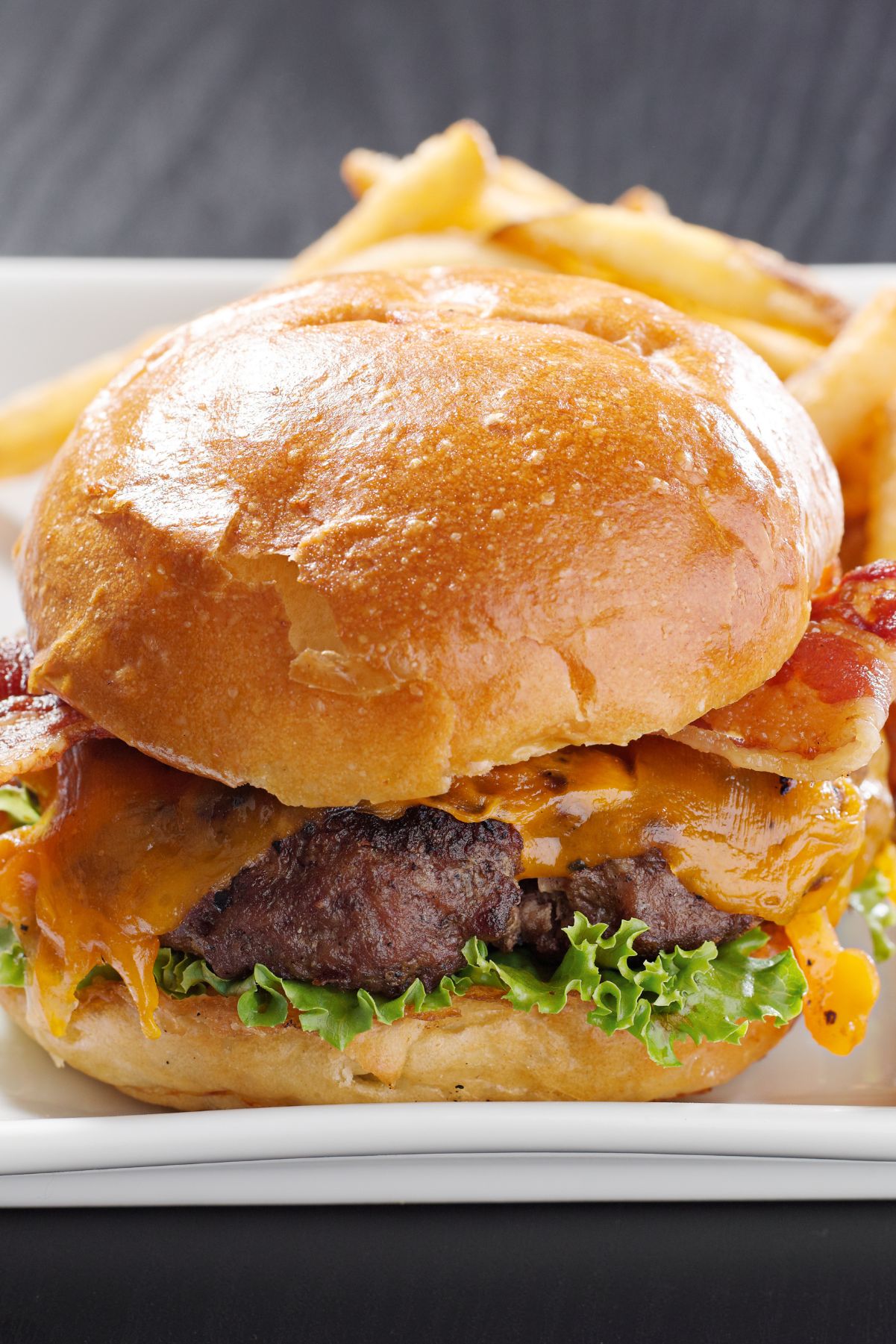 Grilled Bacon Wrapped Hamburgers Recipe

Grilled Bacon Wrapped Hamburgers Recipe. Discover the irresistible joy of grilled hamburgers (or cheeseburgers), a delicious twist on a timeless favorite.

These mouthwatering creations combine juicy beef patties with the smoky allure of savory bacon, resulting in an explosion of flavors that will satisfy even the most discerning burger enthusiasts.

Perfectly cooked on the grill, these burgers deliver a delightful charred exterior while retaining their juiciness on the inside.

Customize to your tastes by adding cheese, tomato slices, lettuce, onion, or your favorite burger toppings.

If you like to meal prep, make the patties ahead of time, and store in an air-tight, freezer safe container for up to 3 months.

Whether you're planning a backyard cookout or seeking a delectable weeknight dinner option, these bacon-wrapped delights are sure to impress.


Related Recipes

Bacon Cheeseburgers With Blue Cheese

Grilled Bacon Pineapple Burgers

Swiss Cheese Missouri Burger





Affiliate Disclosure: Some links provided may be affiliate links where I may earn a commission if you purchase something after clicking on a link. No extra cost is added to you. Also, as an Amazon Associate, I earn from qualifying purchases made through links.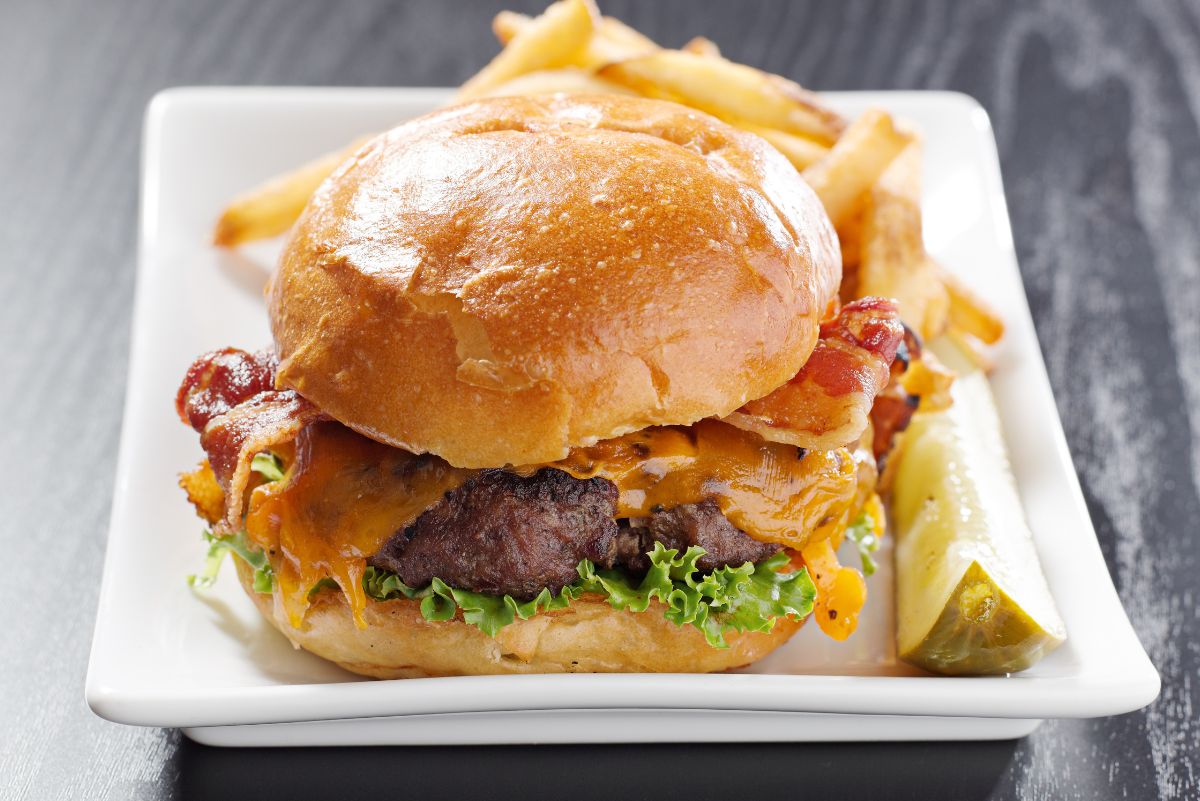 If you need to change the amount of servings the recipe will make, click on the number of servings in the section under the "Print Recipe" bar, and move the slider up or down to change the number of servings you want. Or to double or triple the recipe, click on the 2x or 3x next to "Ingredients".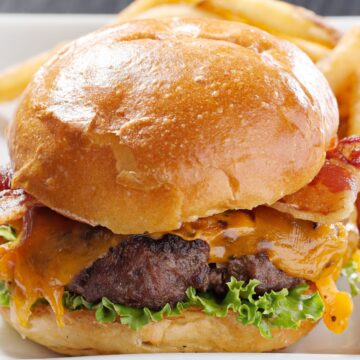 Bacon Wrapped Hamburgers
Savor the flavor of easy grilled bacon-wrapped hamburgers. A delicious twist on a classic favorite the whole family will love!
Instructions 
Prepare the grill by heating it on high heat.

Put the Cheddar cheese, Parmesan cheese, onion, egg, ketchup, Worcestershire sauce, salt, and pepper in a large mixing bowl.

Mix everything in the bowl together. Use your hands to mix it well.

Add the ground beef to the bowl and mix it in with the other ingredients using your hands.

Shape the mixture into 6 patties. Make sure they're round and flat.

Take a slice of bacon and wrap it around each patty. Use toothpicks to hold the bacon in place.

Put the patties on the grill and let them cook for about 5 minutes on each side. Cook them until they're fully done.

When the patties are cooked, take out the toothpicks before serving them.

Serve the patties on hamburger buns.
Nutrition
Calories:
378.2
kcal
Carbohydrates:
24.4
g
Protein:
24.1
g
Fat:
19.8
g
Saturated Fat:
8.1
g
Cholesterol:
99.8
mg
Sodium:
841.7
mg
Potassium:
343.9
mg
Fiber:
1.3
g
Sugar:
1.5
g
Calcium:
169.8
mg
Iron:
3.2
mg
FAQs
Can I use different types of cheese in the burger mixture?
Absolutely! Feel free to experiment with various cheese options such as Swiss, pepper jack, or blue cheese to customize your flavor profile.
Can I substitute turkey or chicken for the ground beef?
Certainly! Ground turkey or chicken can be used as a healthier alternative while still enjoying the deliciousness of bacon-wrapped burgers.
Can I cook these burgers in the oven instead of on a grill?
Definitely! While grilling imparts a unique smoky flavor, you can still achieve delicious results by baking the bacon-wrapped burgers in the oven.
Can I freeze the uncooked patties for later use?
Absolutely! Prepare the patties as instructed, then individually wrap them in plastic wrap and place them in a freezer-safe container. They can be frozen for up to three months.
You May also Like: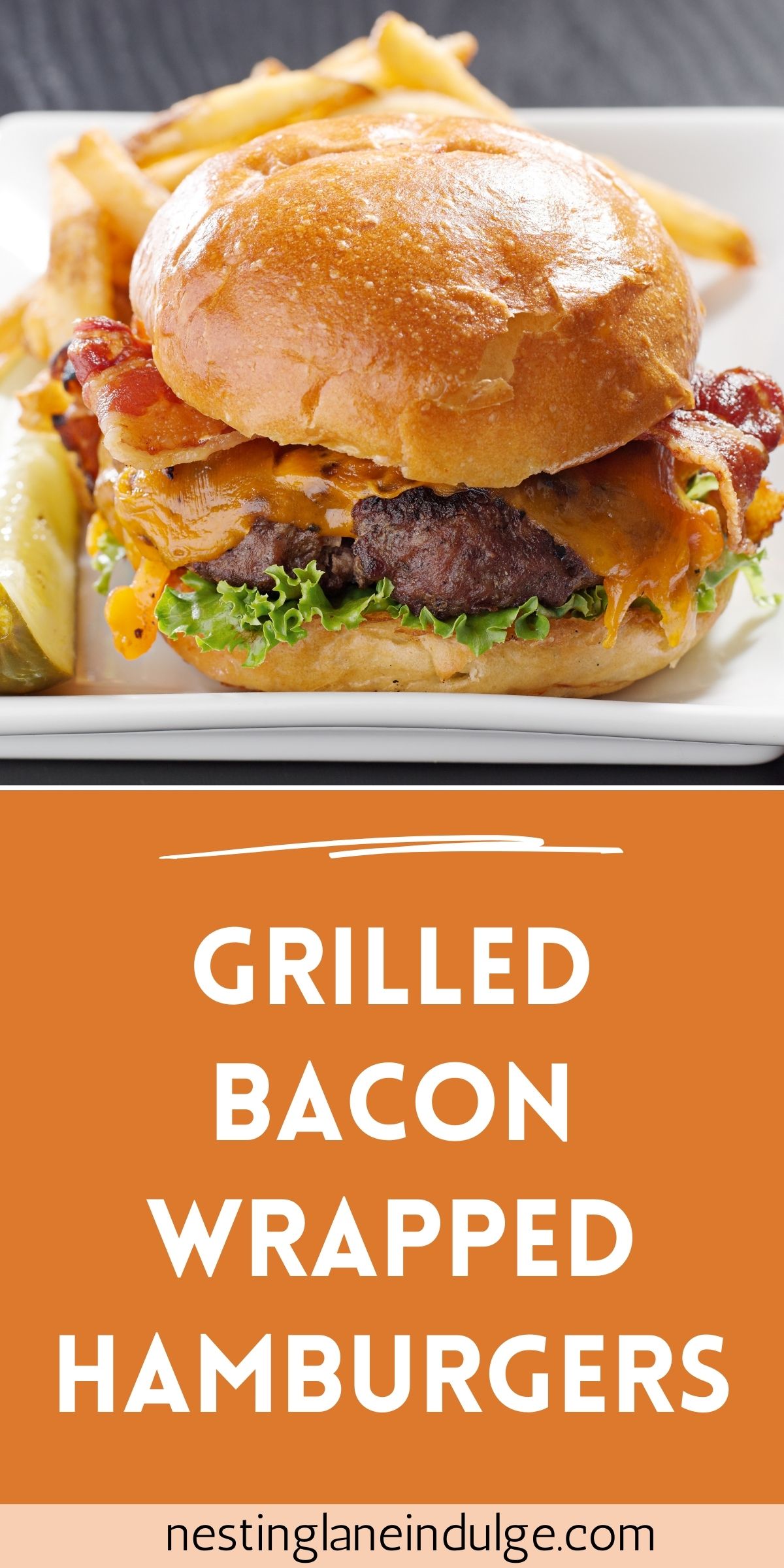 <