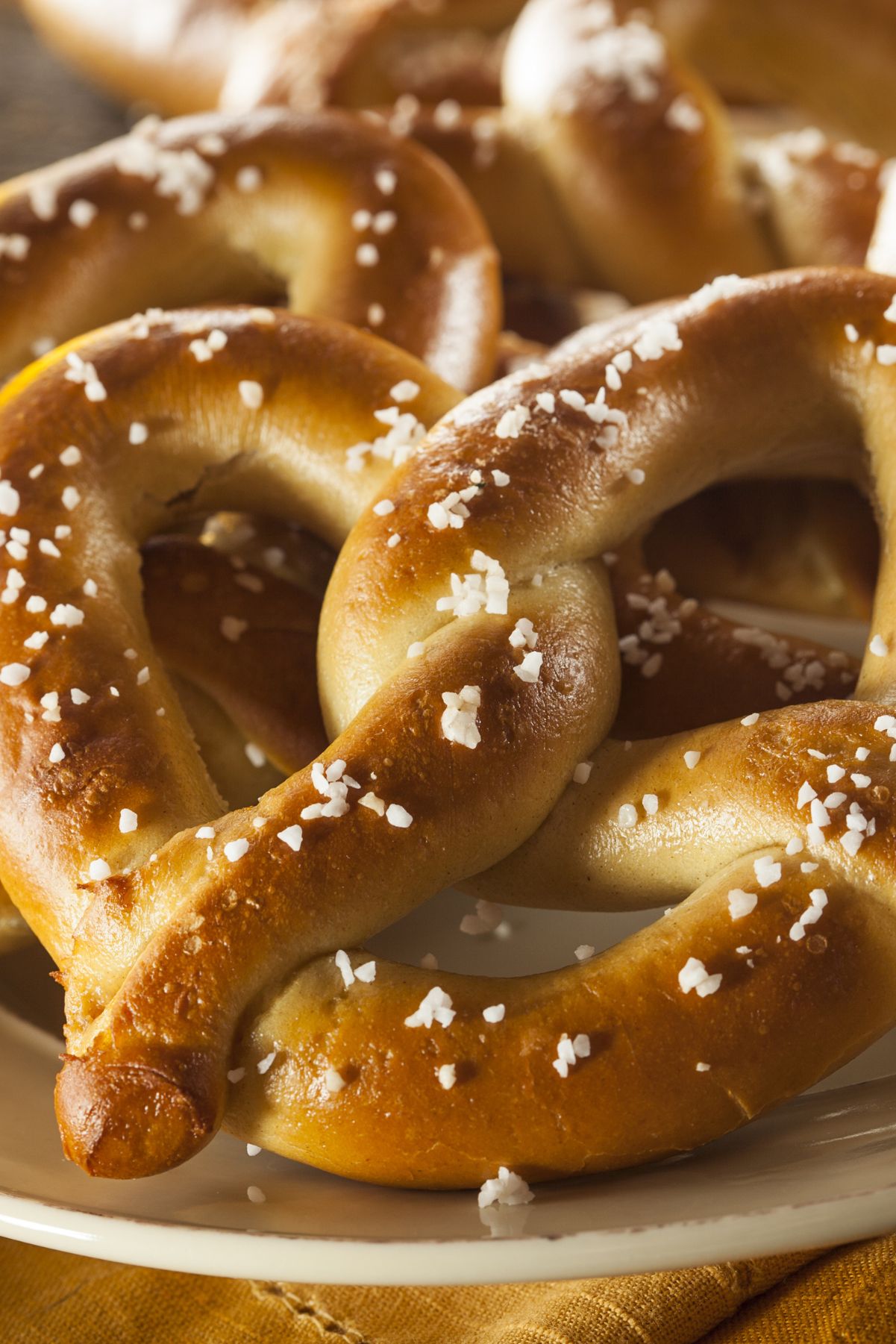 Copycat Auntie Anne's Soft Pretzels Recipe


Copycat Auntie Anne's Soft Pretzels Recipe. No need for a trip to the mall when you can whip up these scrumptious snacks right in your own kitchen.
This recipe is all about simplicity and fun. It's an ideal way to spend some quality time with the kids, or even a relaxing way to unwind after a long day.

All you need are basic pantry staples like flour, yeast, sugar, salt, and baking soda. And for that final touch, we'll brush our pretzels with melted butter and sprinkle them with coarse salt.

Looking for a sweeter option? No problem, the cinnamon-sugar variation is just as easy to make and tastes like a dream.
You can serve these warm, soft pretzels as a snack on their own, or pair them with a hearty bowl of soup for a satisfying meal.

Don't forget about the dipping sauces! From classic cheese dip to tangy mustard, the choice is yours.


Related Recipes

Strawberry Pretzel Jello Salad

Oktoberfest Kielbasa On A Pretzel Roll

How To Make Homemade Animal Crackers





Affiliate Disclosure: Some links provided may be affiliate links where I may earn a commission if you purchase something after clicking on a link. No extra cost is added to you. Also, as an Amazon Associate, I earn from qualifying purchases made through links.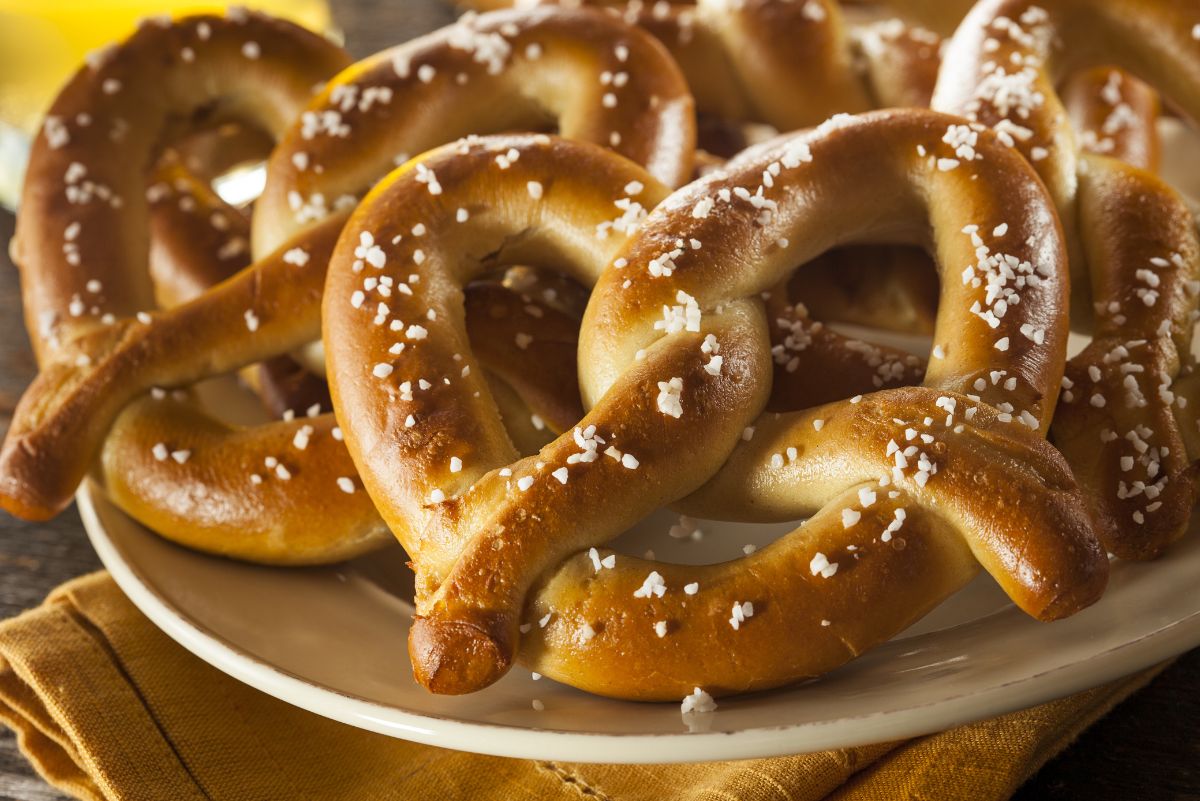 Frequently Asked Questions
Can I make the pretzel dough ahead of time?
Yes, you can prepare the dough in advance and store it in the refrigerator. When you're ready to bake, simply bring the dough to room temperature, shape your pretzels, and follow the baking instructions.
How do I store leftover pretzels?
Leftover pretzels can be stored in an airtight container at room temperature for up to two days or in the fridge for a week.
Can I freeze pretzels?
Yes. Once cooled, you can freeze pretzels in a freezer-safe bag or container. When ready to eat, reheat them in the oven at 350°F until warmed through.
What other flavors can I make?
You can experiment with different seasonings like garlic powder, grated Parmesan, or even "everything bagel" seasoning!
What if my dough isn't rising?
Ensure your yeast is not expired, and your water is lukewarm, not hot. Hot water can kill the yeast, preventing the dough from rising.


If you need to change the amount of servings the recipe will make, click on the number of servings in the section under the "Print Recipe" bar, and move the slider up or down to change the number of servings you want. Or to double or triple the recipe, click on the 2x or 3x next to "Ingredients".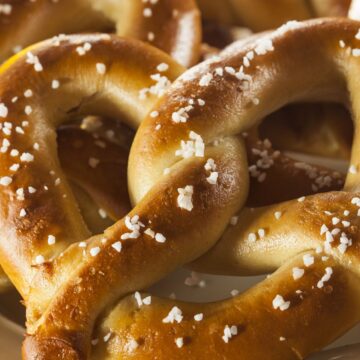 Copycat Auntie Anne's Soft Pretzels
Copycat Auntie Anne's Soft Pretzels Recipe. Perfect for snack time or a cozy movie night, these warm, buttery treats, sprinkled with coarse salt or dusted with cinnamon sugar, bring the magic of the mall food court right to your kitchen.
Instructions 
In a mixing bowl, sprinkle yeast on lukewarm water and stir until dissolved.

Add sugar and salt to the bowl and stir until dissolved.

Add flour to the mixture, and knead the dough until it becomes smooth and elastic.

Let the dough rise for at least 30 minutes.

While the dough is rising, in a large bowl, prepare a water bath by mixing 2 cups of warm water with 2 tablespoons of baking soda. Stir it often.

After the dough has risen, pinch off small pieces of dough and roll them into long ropes, about ½ inch or less in thickness.

Shape the ropes into pretzel shapes.

Dip each pretzel into the soda solution and place them on a greased baking sheet.

Allow the pretzels to rise again.

Bake the pretzels in the oven at 450°F for 10 minutes or until golden.

After baking, brush the pretzels with melted butter and sprinkle with coarse salt.
For Auntie Anne's Cinnamon Sugar Pretzels:
Skip the last step for the regular pretzels (butter and salt) and continue with the steps below.

Melt a stick of butter in a shallow bowl (large enough to fit the entire pretzel).

In another shallow bowl, create a mixture of cinnamon and sugar.

Dip each pretzel into the melted butter, coating both sides generously.

Then dip the butter-coated pretzel into the cinnamon mixture.

Remember, the longer and thinner you make the dough rope, the more like Auntie Anne's pretzels they will be.
Nutrition
Calories:
536.2
kcal
Carbohydrates:
102.7
g
Protein:
13.5
g
Fat:
7.1
g
Saturated Fat:
3.9
g
Cholesterol:
15.3
mg
Sodium:
2667.3
mg
Fiber:
3.7
g
Sugar:
7
g
You May also Like: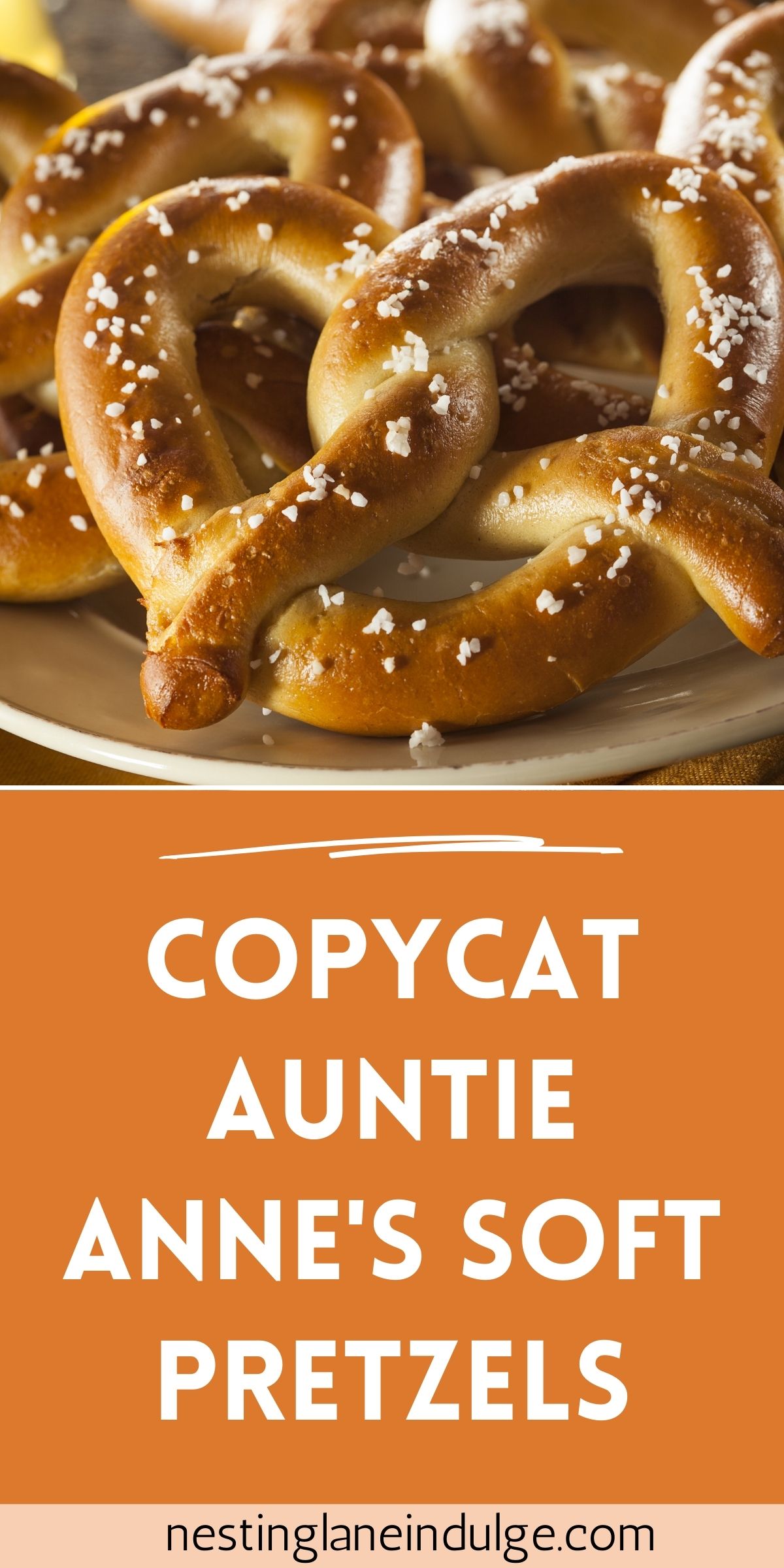 <