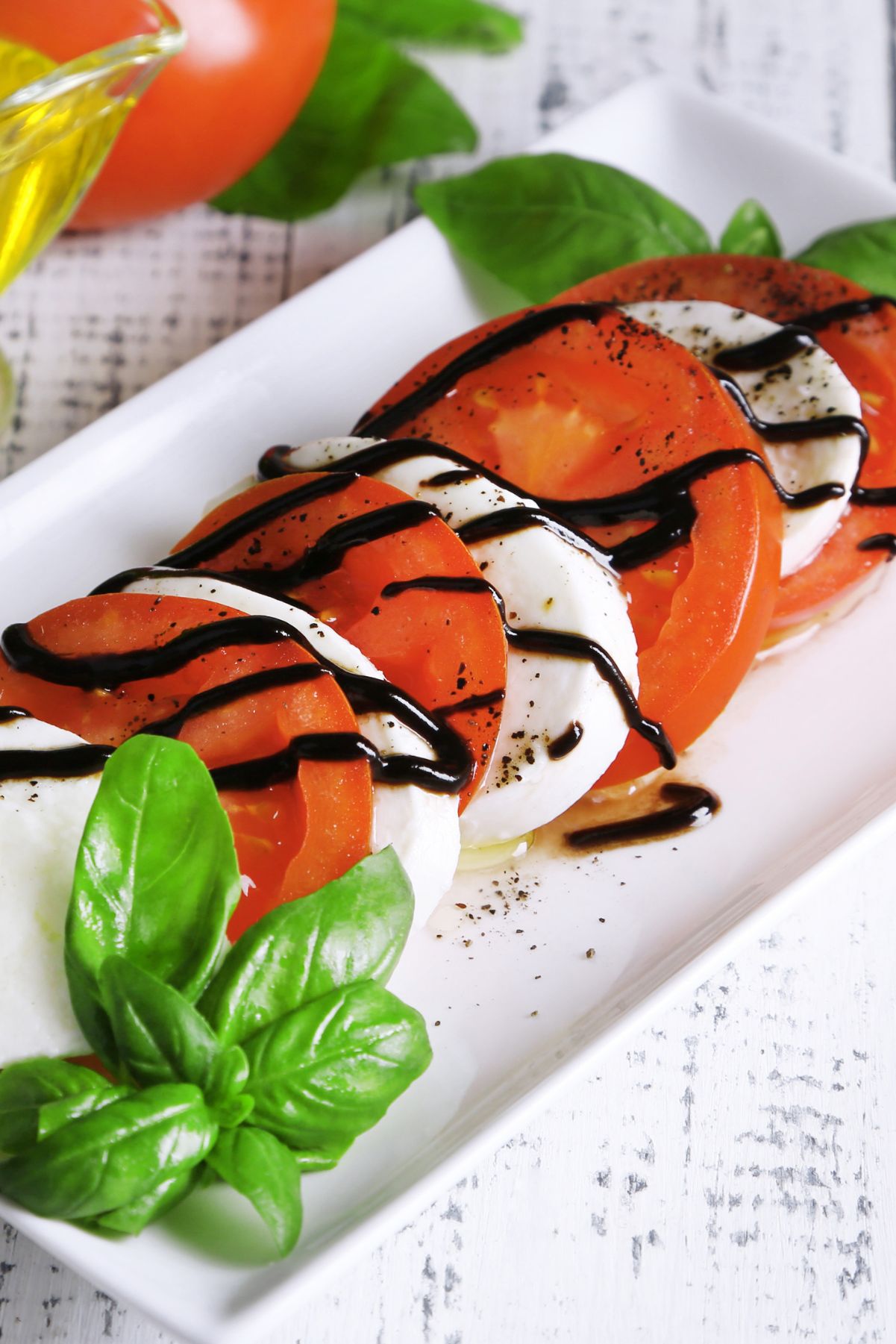 Italian Balsamic Caprese Salad Recipe


Italian Balsamic Caprese Salad Recipe a dish that's bursting with color, flavor, and nutrition. This classic Italian salad features juicy tomatoes and creamy mozzarella, topped with a tangy balsamic reduction and fresh basil leaves.

Whether you're looking for a refreshing lunch option or a vibrant side dish for dinner, this recipe is the perfect choice.
Not only is this salad delicious, but it's also packed with healthy ingredients. Tomatoes are a great source of vitamin C and potassium, while mozzarella cheese adds protein and calcium to the mix.

The balsamic reduction not only adds a flavorful tang but also offers antioxidants and anti-inflammatory properties.
Preparing this salad is easy and takes just a few simple steps. Start by making the balsamic reduction on the stove, then arrange the sliced tomatoes and mozzarella on a platter, and finish off with some fresh basil leaves and a drizzle of olive oil and the balsamic reduction. It's that simple!
Serve this Italian Balsamic Caprese Salad as an appetizer or side dish for your next dinner party, or enjoy it as a light and healthy lunch option.

This salad is sure to impress your guests with its vibrant colors, delicious flavors, and healthy ingredients.




Related Recipes

Italian Fusilli Pasta Caprese

Southern Fried Green Tomatoes

Best Garlic Cheese Bread (Quick And Easy)






Affiliate Disclosure: Some links provided may be affiliate links where I may earn a commission if you purchase something after clicking on a link. No extra cost is added to you. Also, as an Amazon Associate, I earn from qualifying purchases made through links.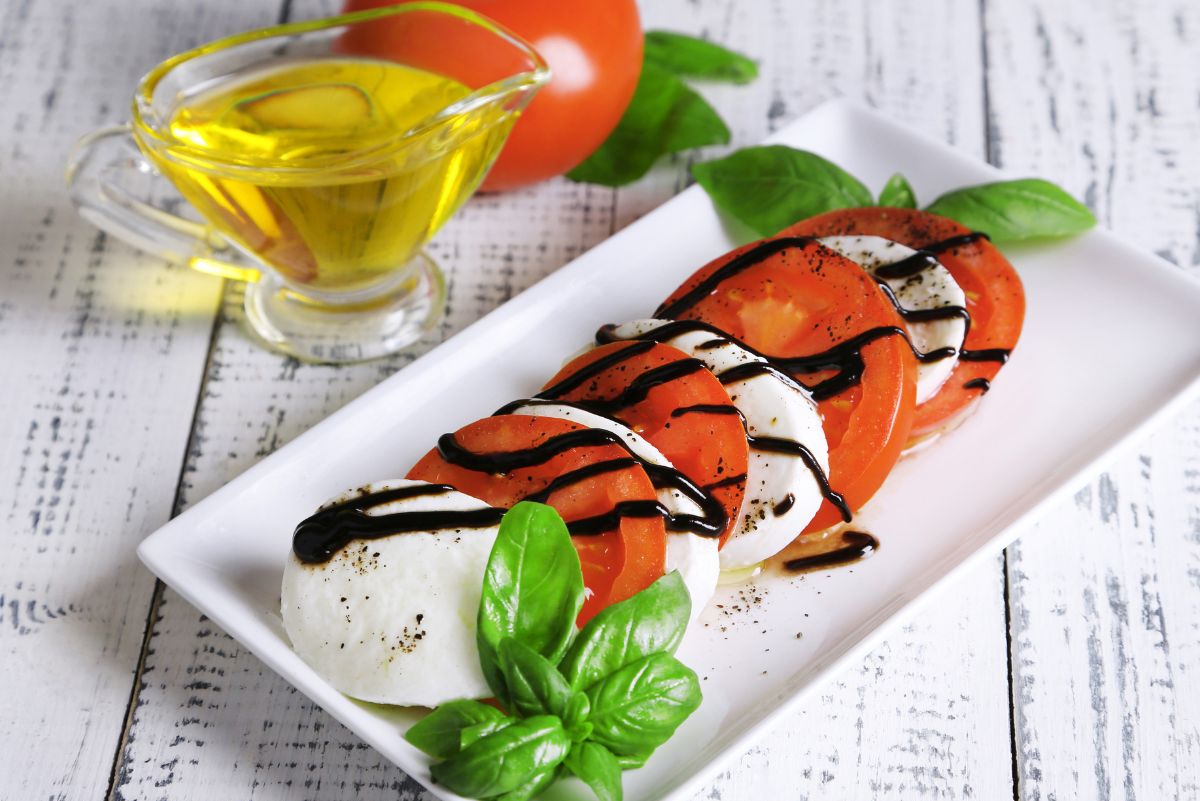 If you need to change the amount of servings the recipe will make, click on the number of servings in the section under the "Print Recipe" bar, and move the slider up or down to change the number of servings you want. Or to double or triple the recipe, click on the 2x or 3x next to "Ingredients".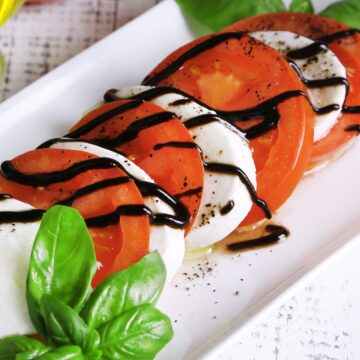 Italian Balsamic Caprese Salad
This delicious salad features ripe tomatoes and creamy mozzarella, drizzled with a tangy balsamic reduction and finished with fresh basil leaves.
Instructions 
Combine balsamic vinegar and honey in a small saucepan, and put the pan on the stove over high heat.

Wait for the mixture to come to a boil, then reduce the heat to low.

Allow the mixture to simmer for approximately 10 minutes until it reduces to 1/3 cup.

Take the saucepan off the heat and set it aside to cool.

Take a serving platter and begin arranging alternating slices of tomato and mozzarella cheese in a decorative pattern.

Once the platter is filled with the slices, sprinkle some salt and black pepper on top.

Place fresh basil leaves over the salad.

Drizzle the salad with some olive oil.

Finish off by drizzling the cooled balsamic reduction over the salad.
Nutrition
Calories:
580.1
kcal
Carbohydrates:
34.8
g
Fat:
38.8
g
Saturated Fat:
18.2
g
Cholesterol:
89.3
mg
Sodium:
330.8
mg
Potassium:
399.7
mg
Fiber:
1.8
g
Sugar:
32.4
g
Calcium:
692.4
mg
Iron:
1.9
mg
FAQs
Can I use a different type of cheese in this salad?
Yes, you can. Burrata or feta cheese are great options to use instead of mozzarella.
How long does the balsamic reduction last?
The reduction can be stored in an airtight container in the refrigerator for up to a week.
Can I make the salad ahead of time?
Yes, you can prepare the tomato and cheese slices in advance, but wait until just before serving to add the fresh basil leaves and drizzle the salad with the balsamic reduction.
Can I add other ingredients to the salad?
Yes, you can add other vegetables such as cucumbers or bell peppers, or even some grilled chicken for added protein.
Can I use a store-bought balsamic dressing instead of making my own reduction?
Yes, you can use a store-bought dressing if you prefer, but the homemade balsamic reduction adds a unique and delicious flavor to the salad.
You May also Like: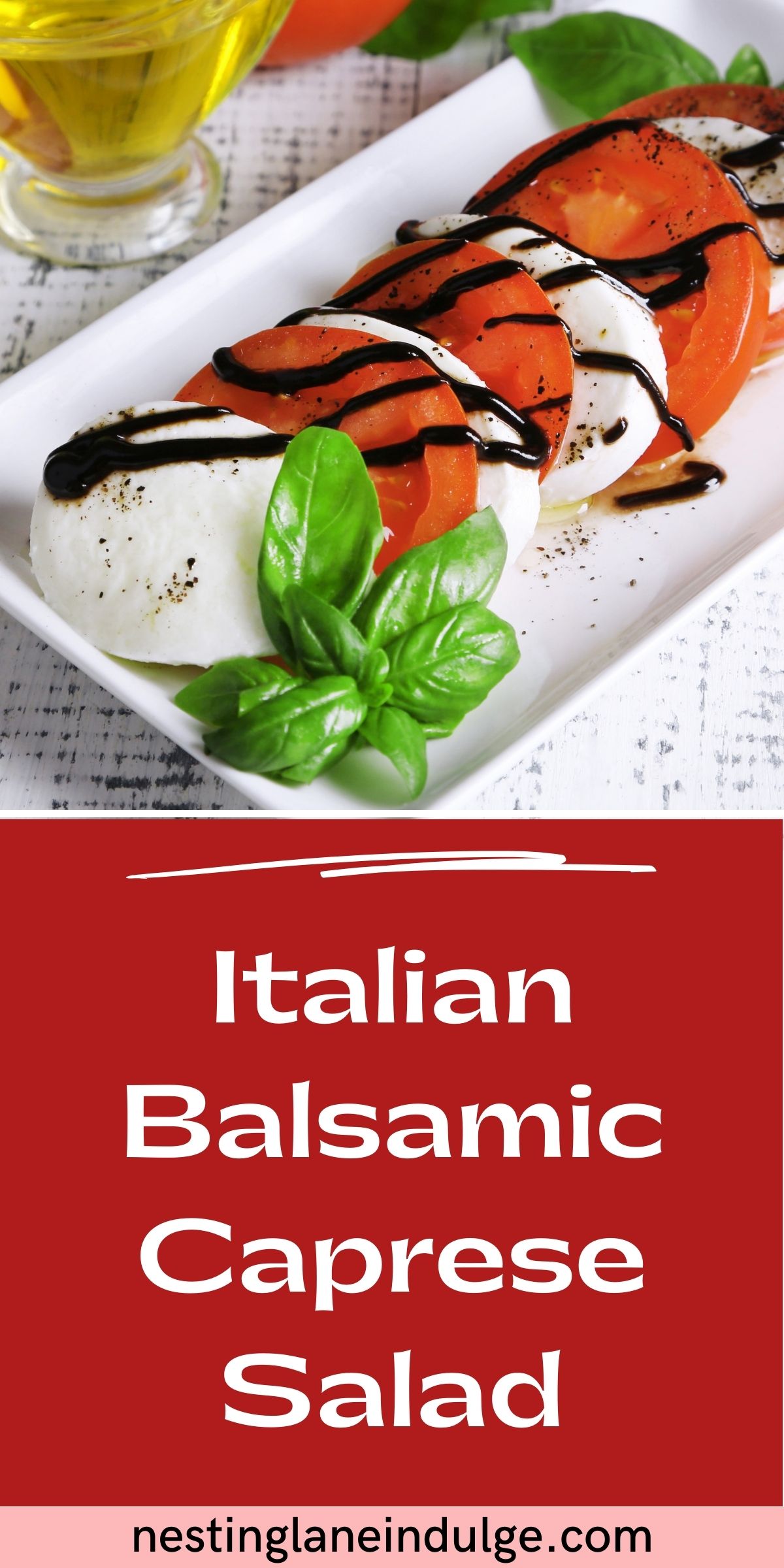 <