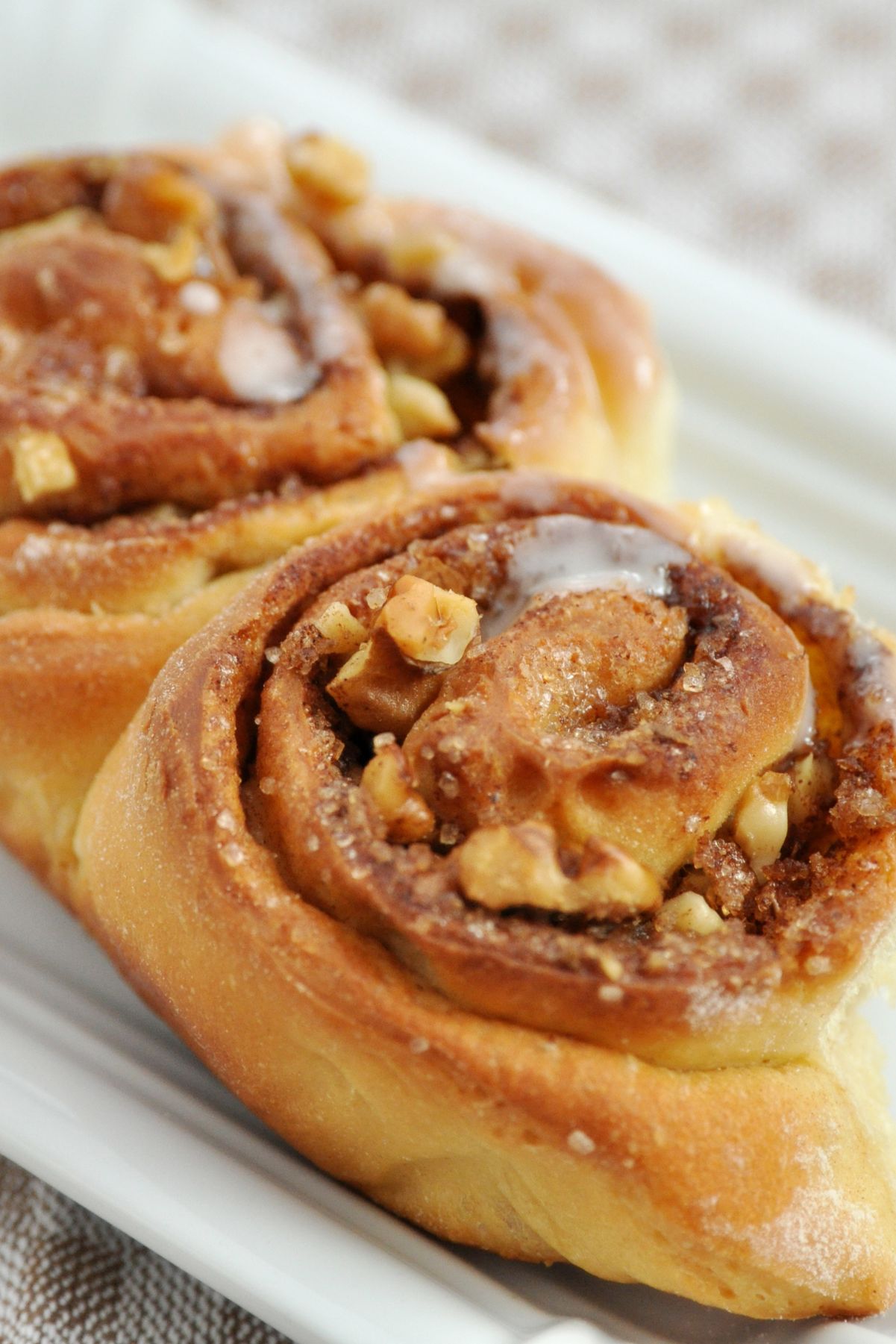 Mouthwatering Homemade Cinnamon Buns Recipe


Mouthwatering Homemade Cinnamon Buns Recipe. Imagine the irresistible aroma of freshly baked Cinnamon Buns wafting through your home, beckoning you to indulge in their scrumptious goodness.

This delightful recipe will have you creating these warm, gooey treats with ease, perfect for satisfying your sweet tooth or impressing your loved ones at your next gathering.
In this recipe, you'll be guided step by step to make the perfect dough, yielding soft, fluffy cinnamon buns that are nothing short of heavenly. The topping, a delectable combination of brown sugar, pecans, and cinnamon, ensures a burst of flavor in every bite.

These homemade cinnamon buns make for an exquisite addition to any weekend brunch, holiday get-together, or a simple yet indulgent breakfast with your morning coffee.
The captivating aroma and flavors will transport you to a cozy, nostalgic place, reminiscent of cherished memories with family and friends.



Related Recipes

2 Ingredient NUTELLA® Crescent Rolls

Quick And Easy Banana Fritters

Apple Crumble Coffee Cake





Affiliate Disclosure: Some links provided may be affiliate links where I may earn a commission if you purchase something after clicking on a link. No extra cost is added to you. Also, as an Amazon Associate, I earn from qualifying purchases made through links.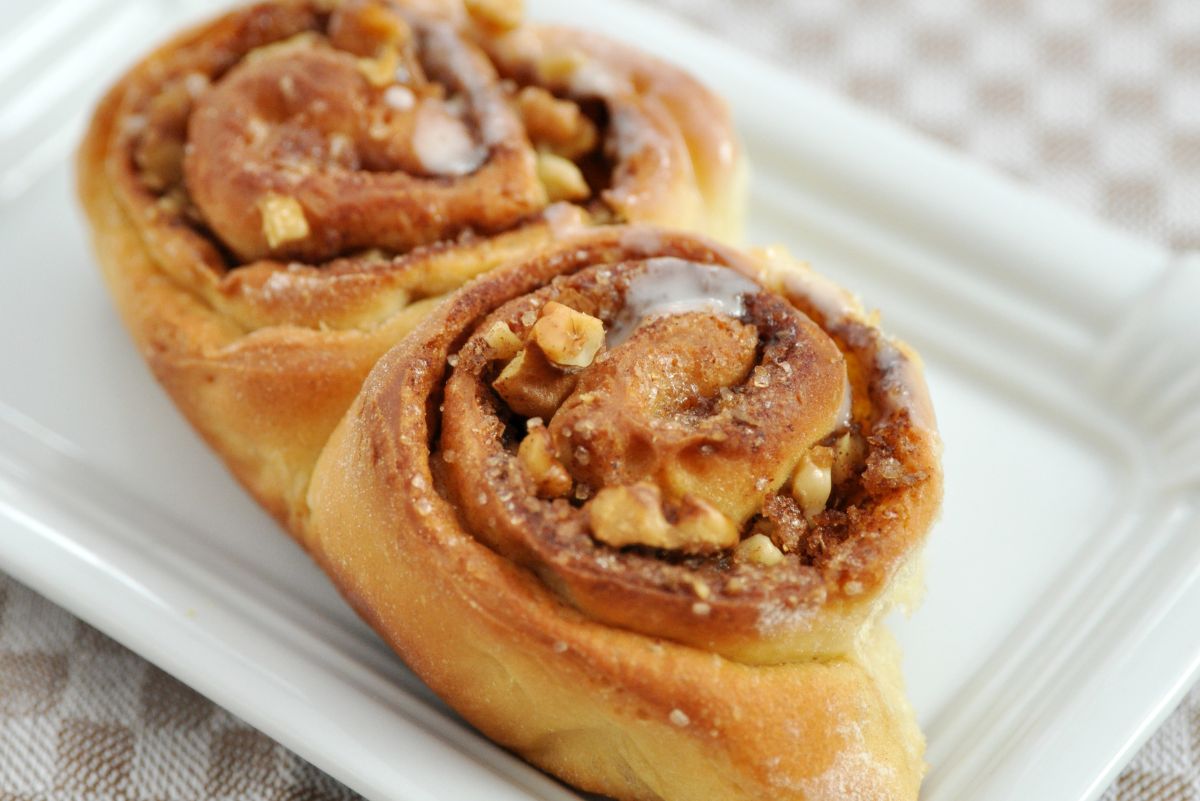 If you need to change the amount of servings the recipe will make, click on the number of servings in the section under the "Print Recipe" bar, and move the slider up or down to change the number of servings you want. Or to double or triple the recipe, click on the 2x or 3x next to "Ingredients".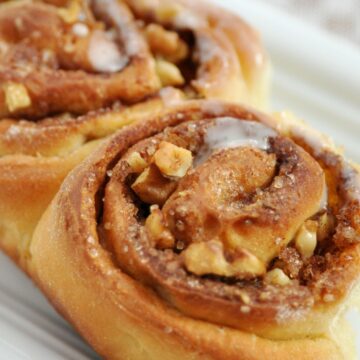 Mouthwatering Homemade Cinnamon Buns
Indulge in scrumptious homemade cinnamon buns with gooey brown sugar, pecans, and cinnamon – perfect for any occasion.
Instructions 
In a small bowl, combine 1 teaspoon of sugar and yeast with warm water. Allow the mixture to rest until it becomes creamy, which should take approximately 10 minutes.

Heat the milk in a separate small saucepan until bubbles appear. Remove the saucepan from the heat.

Add 1/4 cup of sugar, 1/4 cup of butter, and salt to the milk, stirring until everything is melted. Allow the milk mixture to cool down to a lukewarm temperature.

In a large mixing bowl, combine the yeast mixture, milk mixture, eggs, and 1 1/2 cups of flour, stirring thoroughly.

Gradually add the remaining flour in 1/2 cup increments, mixing well after each addition.

Once the dough comes together, transfer it to a lightly floured surface.

Knead the dough for about 8 minutes, until it is smooth and elastic.

Grease a large bowl lightly with oil.

Place the dough in the greased bowl, turning it to ensure it is coated with oil.

Cover the bowl with a damp cloth and allow the dough to rise in a warm area until it has doubled in size, which should take around 1 hour.

As the dough rises, melt 3/4 cup of butter in a small saucepan over medium heat.

Stir in 3/4 cup of brown sugar into the melted butter, whisking until the mixture is smooth.

Pour this mixture into a greased 9×13 inch baking pan.

Evenly distribute 1/2 cup of pecans over the bottom of the pan, then set it aside.

Melt the remaining butter and set it aside as well.

Combine the remaining 3/4 cup of brown sugar, 1/2 cup of pecans, and cinnamon in a separate bowl, and set aside.

Transfer the dough to a lightly floured surface and roll it out into an 18×14 inch rectangle.

Brush the dough with 2 tablespoons of the melted butter, leaving a 1/2 inch border around the edges. Sprinkle the brown sugar, pecan, and cinnamon mixture evenly over the dough.

Starting at the long side, roll the dough up tightly and pinch the seam to seal it.

Brush the roll with the remaining 2 tablespoons of melted butter.

Use a serrated knife to cut the roll into 15 equal pieces. Place the pieces, cut side down, into the prepared baking pan.

Cover the pan and allow the rolls to rise for 1 hour, or until they have doubled in size.

While the rolls are rising, preheat the oven to 375 degrees F (190 degrees C).

Bake the rolls in the preheated oven for 25 to 30 minutes, or until they turn golden brown. Allow the rolls to cool in the pan for 3 minutes before inverting them onto a serving platter.

Scrape any remaining filling from the pan and spread it over the rolls.
Nutrition
Calories:
392.4
kcal
Carbohydrates:
45.3
g
Protein:
5.6
g
Fat:
21.7
g
Saturated Fat:
10.5
g
Cholesterol:
66.1
mg
Sodium:
281.9
mg
Potassium:
121.9
mg
Fiber:
1.9
g
Sugar:
18.5
g
Calcium:
45
mg
Iron:
2.1
mg
FAQs
Can I use a different type of nut in the filling?
Yes, you can substitute other nuts like walnuts or almonds for the pecans in the recipe.
Can I prepare the dough ahead of time?
Yes, you can prepare the dough a day in advance and refrigerate it overnight. Allow it to come to room temperature before rolling it out.
Can I freeze the cinnamon buns after baking?
Yes, after they've cooled completely, you can wrap them individually in plastic wrap and freeze them for up to 3 months. Thaw and reheat before serving.
What if I don't have a 9×13 inch baking pan?
You can use two 9-inch round pans or an 11×7 inch pan as an alternative.
Can I use a stand mixer to make the dough?
Absolutely! You can use a stand mixer fitted with a dough hook attachment to mix and knead the dough, following the same steps as described in the recipe.
You May also Like: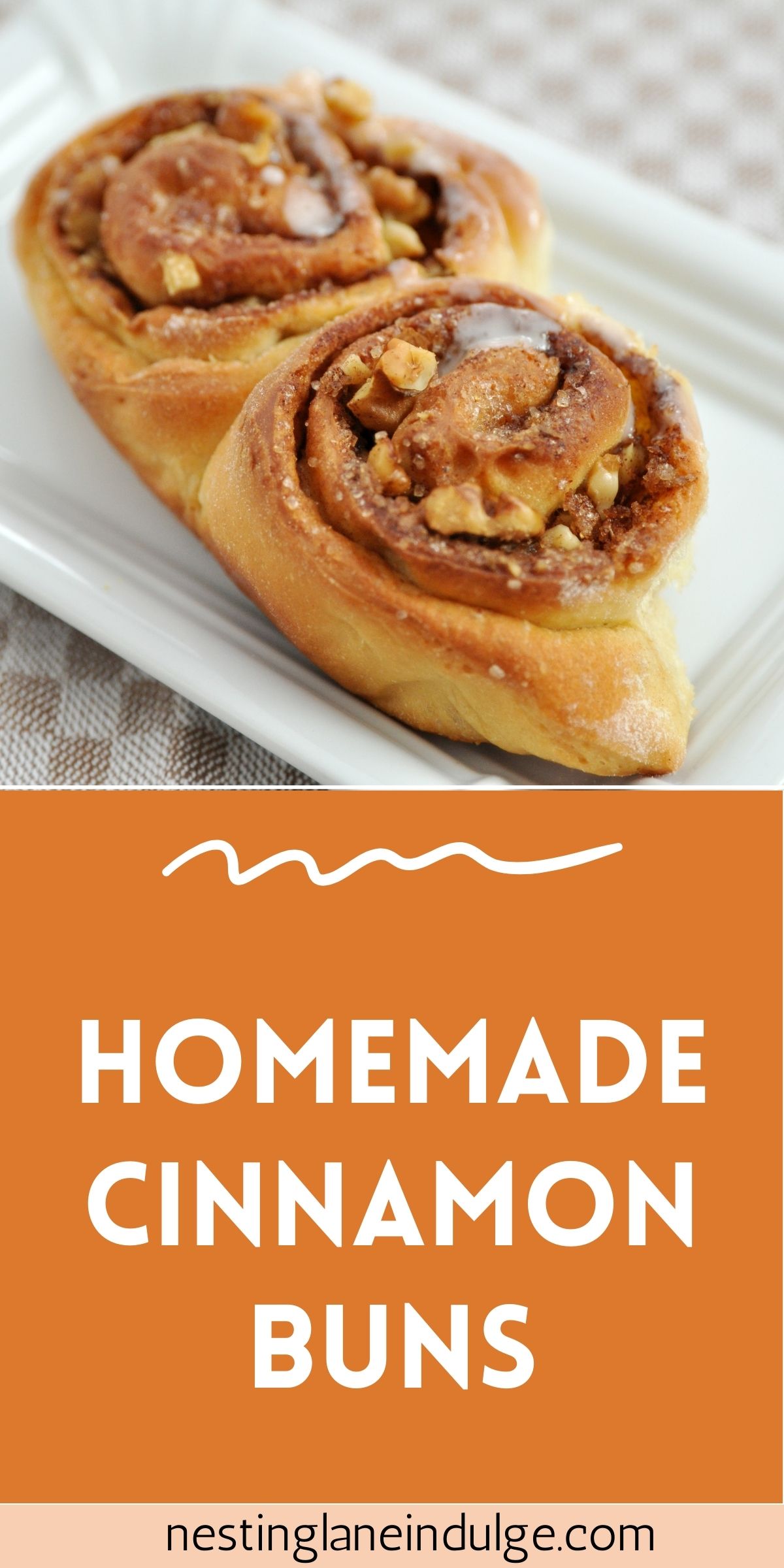 <