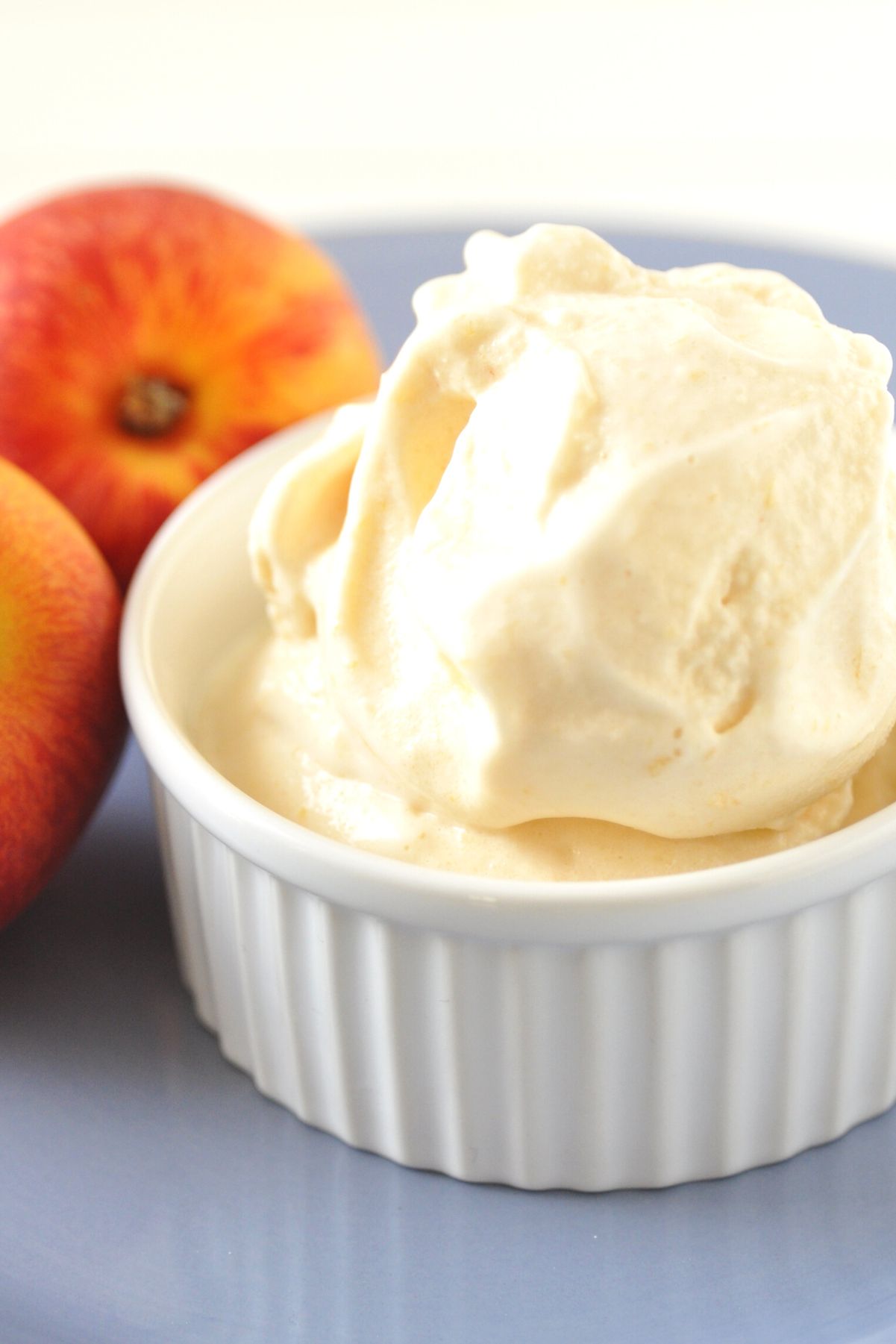 Homemade Peach Ice Cream Recipe (with an Ice Cream Maker)


Homemade Peach Ice Cream Recipe (with an Ice Cream Maker). Made from simple, natural ingredients – peaches, half-and-half, sugar, sweetened condensed milk, evaporated milk, vanilla, and whole milk – this recipe is a testament to the magic of homemade desserts.
We've all enjoyed store-bought ice cream, but making it at home brings a different kind of satisfaction. It's about the process, the anticipation, and ultimately, the first creamy, cool bite.

This recipe offers an opportunity to play around in the kitchen, have fun, and create something that's sure to impress your friends and family.
As for the peaches, we're talking fresh and juicy, the ones that drip down your chin when you bite into them.

Half-and-half, a combination of whole milk and cream, gives our ice cream a smooth and luscious texture.

The trio of sugar, sweetened condensed milk, and evaporated milk work in tandem to deliver just the right amount of sweetness, while vanilla adds that classic ice cream flavor we all know and love.
Serve this treat with a side of freshly baked cookies or a slice of pound cake, and you've got yourself a summer dessert that's hard to resist. Or, keep it simple and serve it solo to let the peach flavor shine.
For those new to the process, don't worry. We've broken it down into easy-to-follow steps, ensuring you'll nail it on your first try.



Related Recipes

Homemade Blueberry Ice Cream

Easy Avocado Ice Cream





Affiliate Disclosure: Some links provided may be affiliate links where I may earn a commission if you purchase something after clicking on a link. No extra cost is added to you. Also, as an Amazon Associate, I earn from qualifying purchases made through links.




Don't have an Ice Cream Maker? This is the one we use, and recommend.
These Ice Cream Containers aren't necessary, you can just use a freezer safe container, but I love these containers: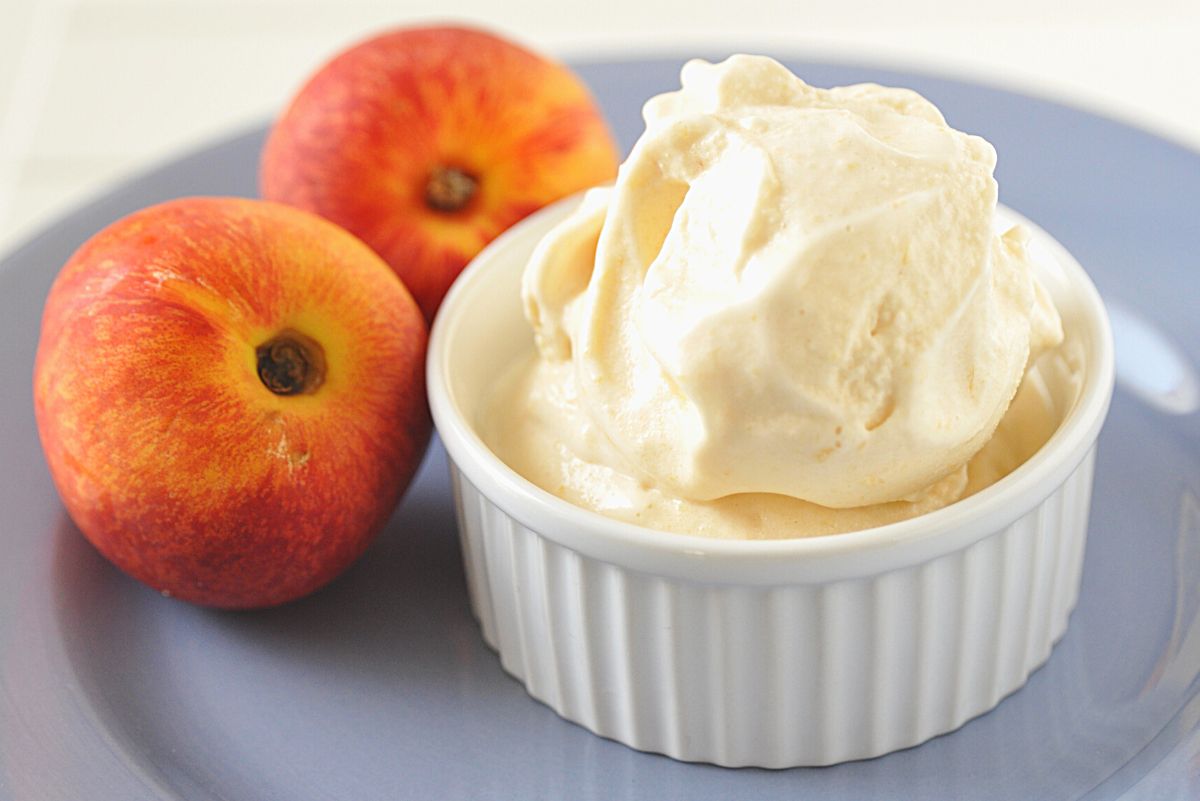 Frequently Asked Questions
Can I use canned peaches instead of fresh ones?
Although fresh peaches are recommended for the best flavor, you can substitute canned peaches in a pinch.
How long does homemade ice cream last?
When stored in an airtight container in the freezer, it can last up to two or three weeks.
What if my ice cream is too hard to scoop?
Let it sit at room temperature for a few minutes before scooping, it'll soften up nicely.


If you need to change the amount of servings the recipe will make, click on the number of servings in the section under the "Print Recipe" bar, and move the slider up or down to change the number of servings you want. Or to double or triple the recipe, click on the 2x or 3x next to "Ingredients".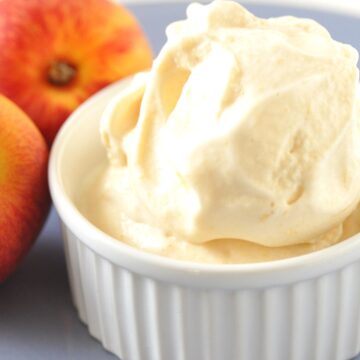 Homemade Peach Ice Cream
Discover the delight of Homemade Peach Ice Cream, an ideal dessert for hot summer days. An easy-to-follow recipe, it's perfect for those new to homemade ice cream and seasoned makers alike.
Ingredients  
2½

pound

 fresh peaches

peeled, pitted and chopped

1

pint

half-and-half cream

½

cup

sugar

1

can

(12 fluid ounce) evaporated milk

1

teaspoon

vanilla extract

2

cups

whole milk

or as needed
Instructions 
In a blender or food processor, add small batches of peaches, half-and-half, and sugar, and puree. until smooth. Repeat in small batches with the rest of the peaches, half-and-half, and sugar.

In a large ice cream freezer container, combine all the peach purée, sweetened condensed milk, evaporated milk, and vanilla.

Gradually pour whole milk into the container, ensuring not to surpass the fill line. It should take around 2 cups of milk.

Now, transfer the combined mixture from the container to your ice cream maker.

Follow the manufacturer's instructions to freeze the mixture in the ice cream maker. This process typically takes around 20 to 25 minutes.

Once the mixture is adequately frozen in the ice cream maker, transfer it to an airtight, freezer friendly container.

Place in the freezer until frozen, usually at least 4 hours.
Nutrition
Calories:
106
kcal
Fat:
5
g
Saturated Fat:
7
g
Cholesterol:
16
mg
Sodium:
42
mg
Sugar:
13
g
Vitamin C:
12
mg
Calcium:
104
mg
You May also Like: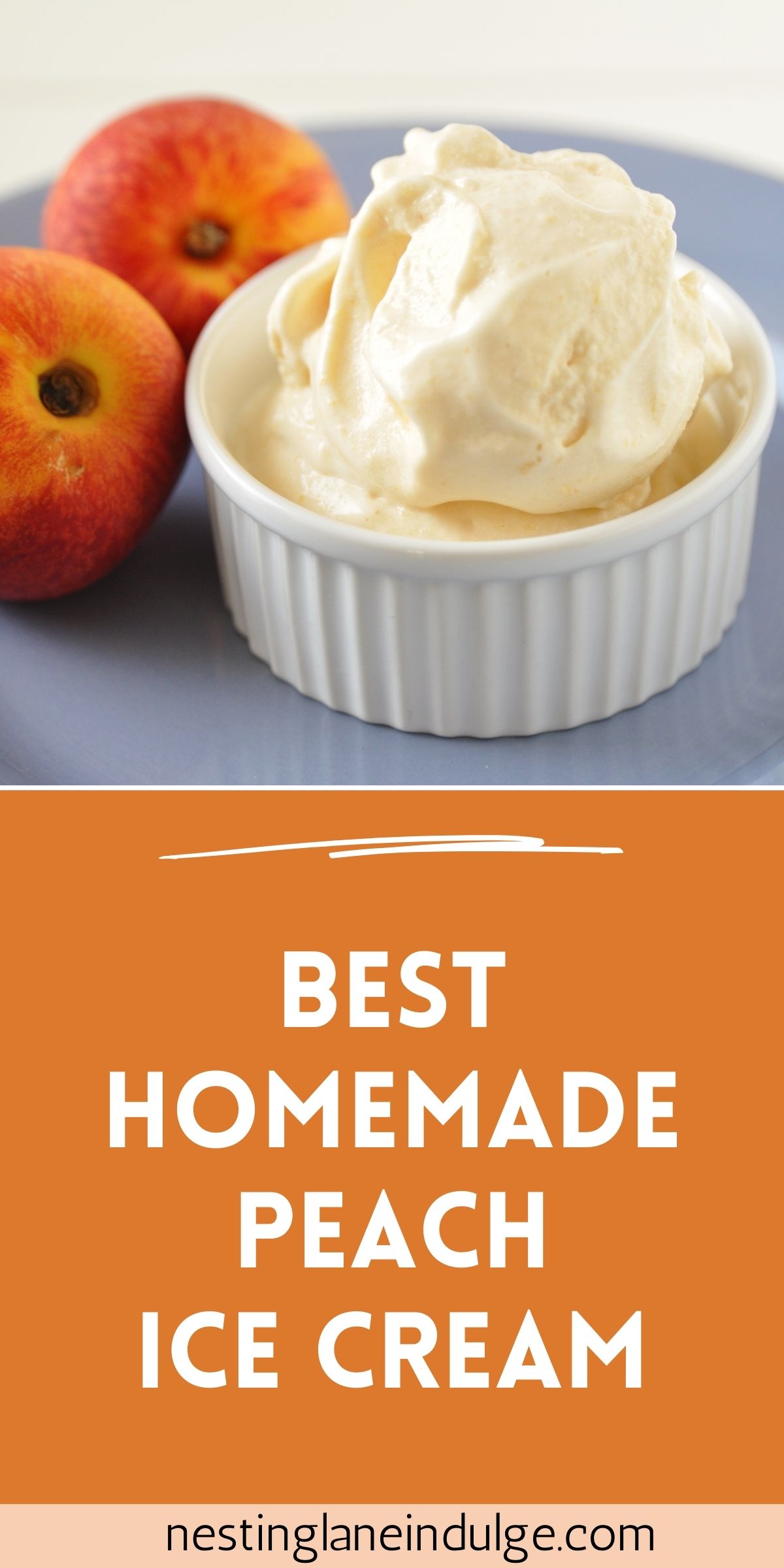 <