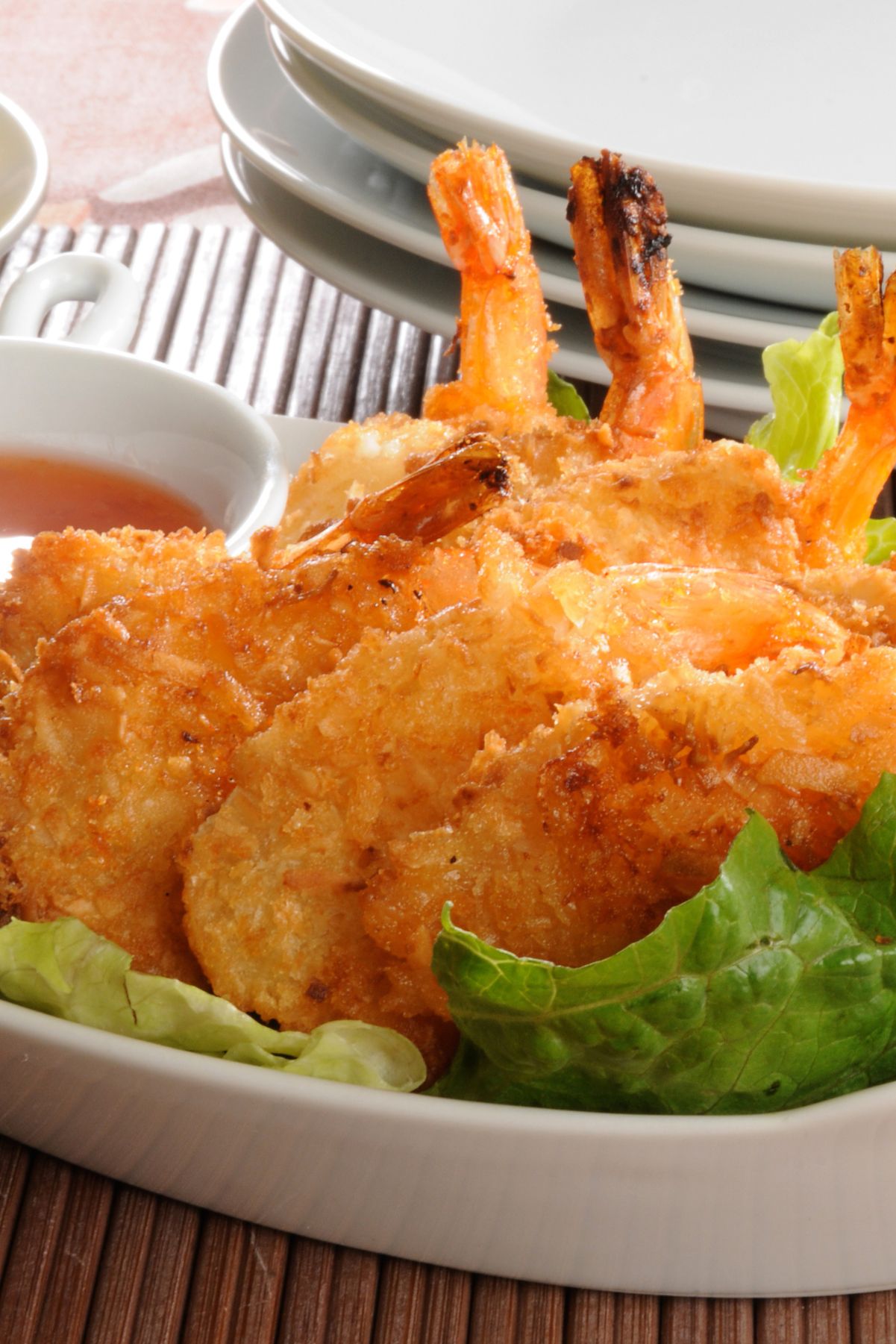 Crispy Coconut Shrimp in Beer Batter Recipe

Crispy Coconut Shrimp in Beer Batter Recipe, a fantastic seafood dish that's sure to please your palate. This easy-to-make recipe combines juicy shrimp with a light beer batter and crispy coconut flakes, creating a delightful combination of flavors and textures that's perfect for any occasion.
This recipe is simple and uses common ingredients found in most kitchens.

Whether you're hosting a dinner party, enjoying a family meal, or cooking a casual weeknight dinner, this dish is versatile and appealing to all tastes.
The secret lies in the beer batter. It adds a unique flavor to the dish, while the coconut flakes give it a satisfying crunch. The contrasting textures and flavors make this recipe a standout choice for seafood lovers.
Give this Crispy Coconut Shrimp in Beer Batter recipe a try and enjoy a tasty seafood experience that's sure to become a favorite in your household.



Related Recipes

Copycat Bang Bang Shrimp (Bonefish Grill)

Shrimp And Pasta With Lemon Sauce





Affiliate Disclosure: Some links provided may be affiliate links where I may earn a commission if you purchase something after clicking on a link. No extra cost is added to you. Also, as an Amazon Associate, I earn from qualifying purchases made through links.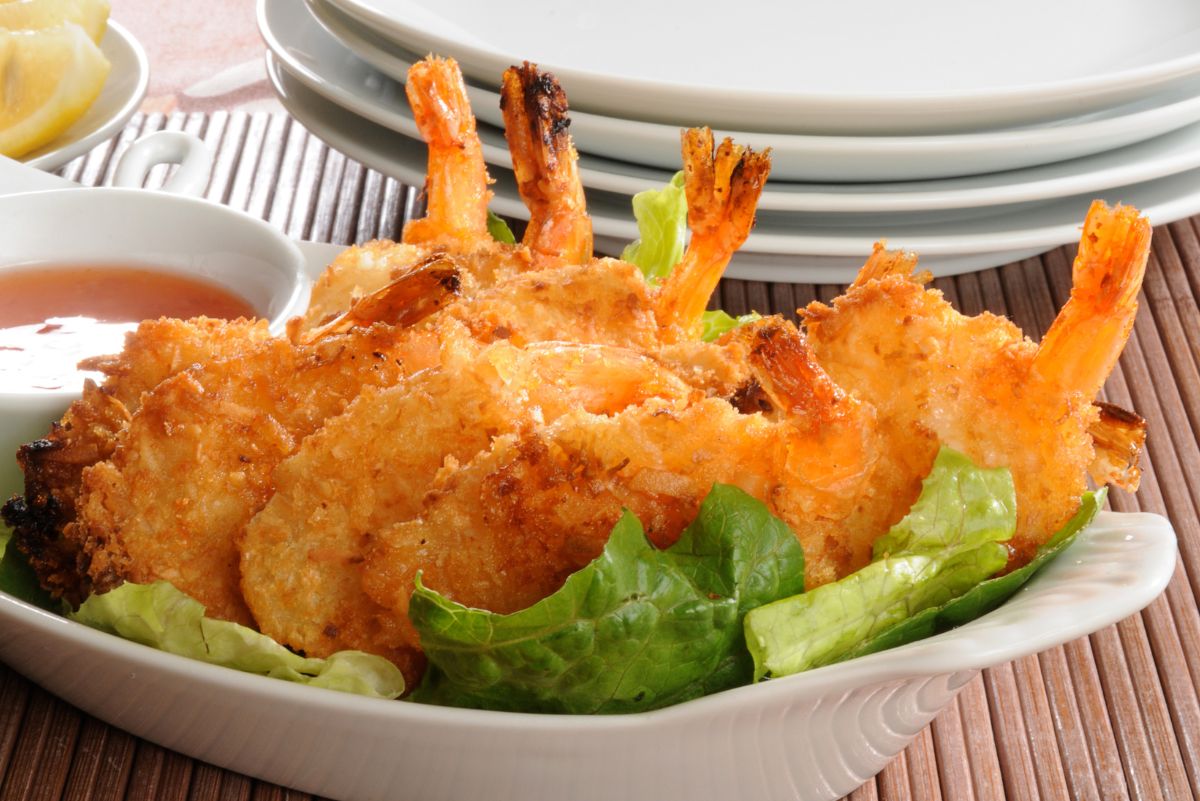 If you need to change the amount of servings the recipe will make, click on the number of servings in the section under the "Print Recipe" bar, and move the slider up or down to change the number of servings you want. Or to double or triple the recipe, click on the 2x or 3x next to "Ingredients".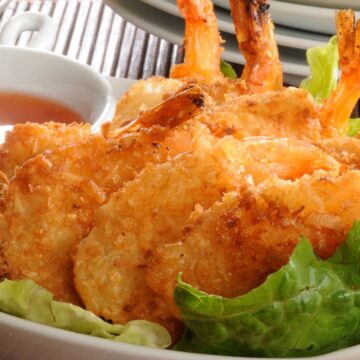 Crispy Coconut Shrimp in Beer Batter
Delicious Crispy Coconut Shrimp in Beer Batter, combining tender shrimp with crispy coconut coating for the perfect seafood dinner.
Instructions 
In a bowl, combine flour, beer, egg, and salt.

Using an electric mixer on low, mix the ingredients until a smooth batter is formed.

Prepare a separate shallow dish and fill it with coconut flakes.

Individually dip each shrimp into the beer batter, ensuring to remove any excess batter.

Press the dipped shrimp into the coconut flakes to coat them.

Place the breaded shrimp onto a plate, avoiding stacking them, and continue breading the rest.

Heat vegetable oil in a skillet over medium-high heat for 3 to 4 minutes, until hot but not smoking.

Fry approximately one-third of the shrimp in the hot oil, cooking until they turn golden brown, which should take 2 to 3 minutes.

Set up a wire rack over paper towels to drain the cooked shrimp.

Transfer the fried shrimp onto the wire rack.

Repeat steps 8-10 for the remaining shrimp, ensuring all are fried and drained properly.
Nutrition
Calories:
581.2
kcal
Carbohydrates:
54.8
g
Protein:
25.1
g
Fat:
28.3
g
Saturated Fat:
12.7
g
Cholesterol:
203.1
mg
Sodium:
720.4
mg
Potassium:
394.3
mg
Fiber:
4.8
g
Sugar:
13.8
g
Calcium:
76.5
mg
Iron:
3.4
mg
FAQs
Can I use frozen shrimp for this recipe?
Yes, you can use frozen shrimp. Just make sure to thaw them completely before using them in the recipe.
What type of beer works best for the beer batter?
A light lager or ale is recommended for the beer batter, as it provides a subtle flavor without overpowering the dish.
Can I bake the shrimp instead of frying them?
Yes, you can bake the shrimp at 400°F (200°C) for about 10-12 minutes or until golden brown and cooked through.
What can I serve with Crispy Coconut Shrimp?
You can serve the shrimp with a side of rice, a fresh salad, or a dipping sauce like sweet chili sauce or mango salsa.
How long can I store leftover Crispy Coconut Shrimp?
Leftover coconut shrimp can be stored in an airtight container in the refrigerator for up to 3 days. Reheat in the oven or an air fryer to maintain crispiness.
You May also Like:
<