Best Grilled Barbecue Ribs Recipe
Best Grilled Barbecue Ribs Recipe. Barbecue ribs are one of the most delicious and satisfying foods you can grill up on a hot summer day. But what makes the best grilled barbecue ribs?

Some people might say that smoky, tender meat is key, while others might claim that good sauce is all that matters.

In my opinion, though, the best grilled barbecue ribs are ones that are perfectly seasoned and generously slathered in a tasty sauce.

The barbecue sauce is made with brown sugar, chile sauce, Worcestershire sauce, soy sauce, ketchup, rum, fresh garlic, dry mustard, and black pepper.

Spareribs are one of the best cuts of meat for grilling because they're packed with flavor and relatively easy to cook.

When choosing spareribs, look for ones that are well-marbled with fat and have a good amount of meat on them. You'll also want to avoid ribs that have been artificially enhanced with injections or solutions, as this can affect the flavor.


What are Spareribs
Spareribs are a type of pork rib that is popular in many cuisines. The spareribs come from the lower part of the pig's rib cage, and they are typically sold with the bones still attached.

When cooked properly, spareribs are tender and juicy, with a rich flavor that is perfect for barbecues or other hearty meals.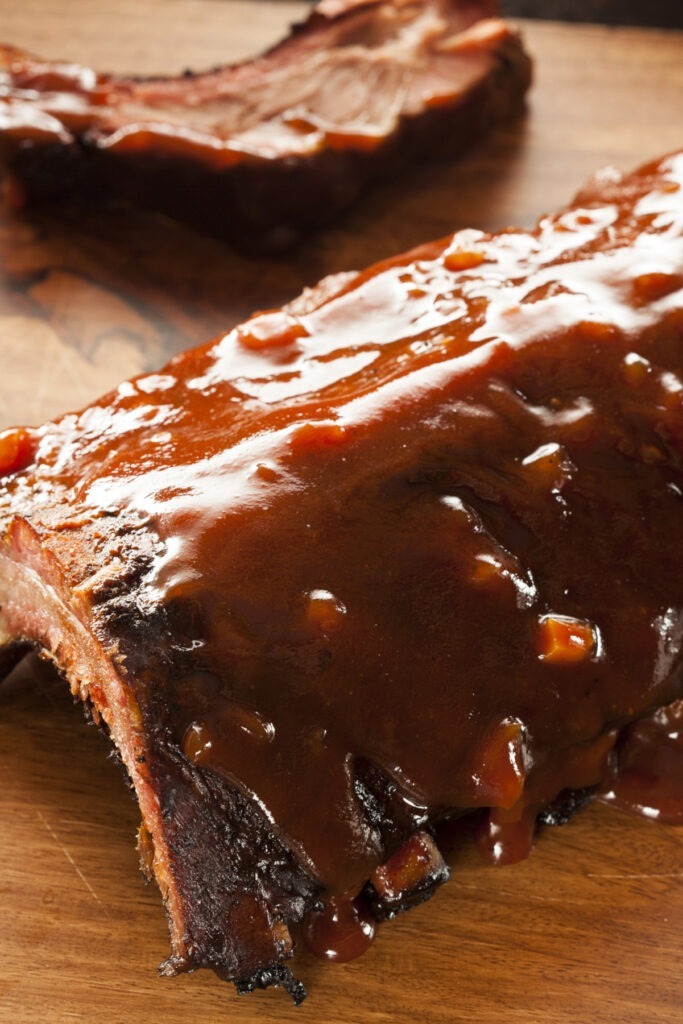 Affiliate Disclosure: Some links provided may be affiliate links where I may earn a commission if you purchase something after clicking on a link. No extra cost is added to you. Also, as an Amazon Associate, I earn from qualifying purchases made through links.


What to serve with
Simple Baked Garlic Fries
These garlicky fries are roasted in the oven until golden brown and crispy, making them a healthier alternative to deep-fried versions.

Cornbread Made in a Cast Iron Skillet
There's nothing quite like a fresh piece of cornbread, straight out of the cast iron skillet. It's warm, fluffy, and delicious – perfect for any occasion!

Best Au Gratin Scalloped Potatoes
They're creamy, cheesy, and absolutely delicious! Plus, they're pretty simple to make, so they're perfect for any occasion.

Homemade Amish White Bread Without a Bread Machine
If you've ever had the pleasure of enjoying a warm, fresh loaf of Amish white bread, then you know there's just nothing quite like it.
Rosemary Roasted Red Potatoes
A super easy side dish recipe that only calls for 5 ingredients. It's quick and easy, and you will have it on the table in just 35 minutes.

Microwave Cheesy Baked Potato
A quick and easy baked potato when you don't want to wait an hour, or don't want to turn on the oven.

Easy Popeye's 7-Up Biscuits Copycat
Quick and Easy with only 4 ingredients and they're ready in 27 minutes.

Strawberry Pretzel Jello Salad
The ultimate summer dessert recipe! Made with pretzels, frozen whipped topping, strawberry jello, strawberries, butter, sugar, and cream cheese.


Don't have an Outdoor Grill? Check out this Indoor Grill!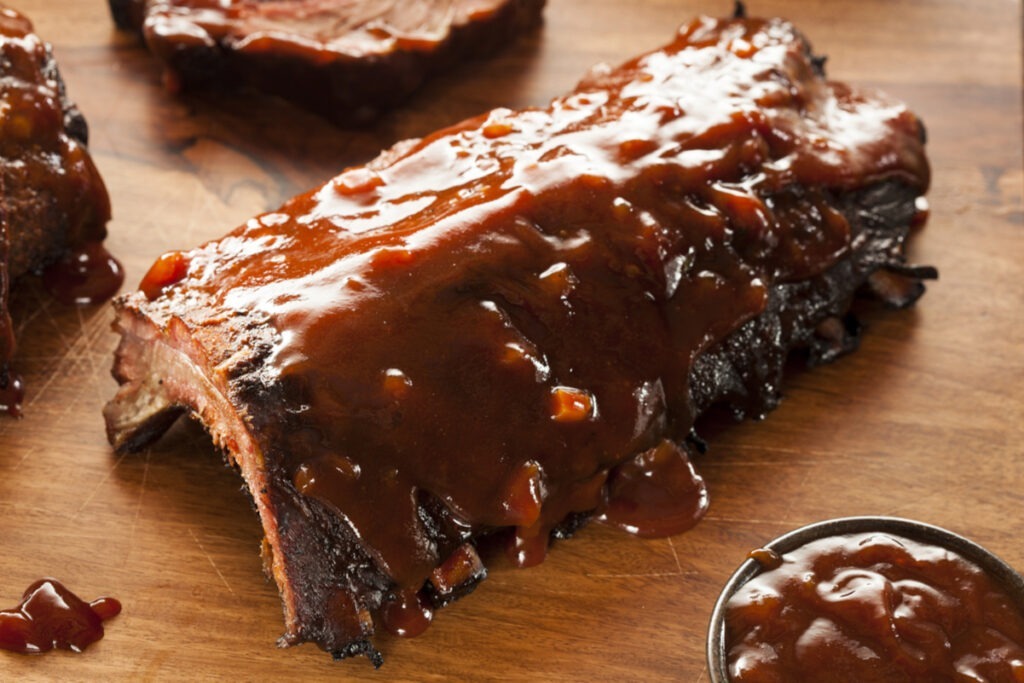 If you need to change the amount of servings the recipe will make, click on the number of servings in the section under the "Print Recipe" bar, and move the slider up or down to change the number of servings you want. Or to double or triple the recipe, click on the 2x or 3x next to "Ingredients".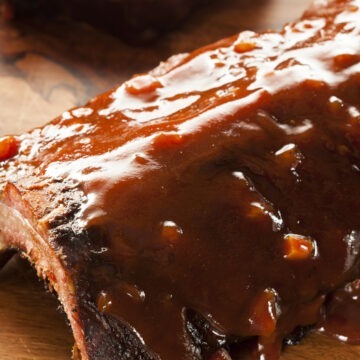 Best Grilled Barbecue Ribs
Best Grilled Barbecue Ribs Recipe. These melt in your mouth pork ribs are the perfect meal, and full of flavor.
Instructions 
Prepare spareribs by cutting into 8 sections. (8 servings).

Wrap the spareribs in a double layer of aluminum foil.

In preheated oven, bake for 1½ hours.

Remove the aluminum foil from the spareribs, and discard the grease.

In a large roasting pan, arrange the spareribs in a single layer.

In a mixing bowl, add brown sugar, chile sauce, soy sauce, Worcestershire sauce, ketchup, rum, crushed garlic, dry mustard, and ground black pepper. Stir to combine well.

Coat the spareribs well with the mixture, and let marinate in the refrigerator overnight, or for 1 hour at room temperature.

Prepare grill by moving the grate to approximately 4 inches over the source of heat.

Preheat the grill to medium heat.

Prepare the grill by brushing the grate with oil.

Arrange spareribs on the prepared grill, and grill for 30 minutes. Baste with the prepared marinade several times during cooking.
Nutrition
Calories:
503.8
kcal
Carbohydrates:
23.1
g
Protein:
29.9
g
Fat:
30.2
g
Saturated Fat:
11
g
Cholesterol:
119.9
mg
Sodium:
715.3
mg
Potassium:
488.8
mg
Fiber:
0.2
g
Sugar:
20.3
g
Calcium:
76.3
mg
Iron:
2.9
mg
You May also Like: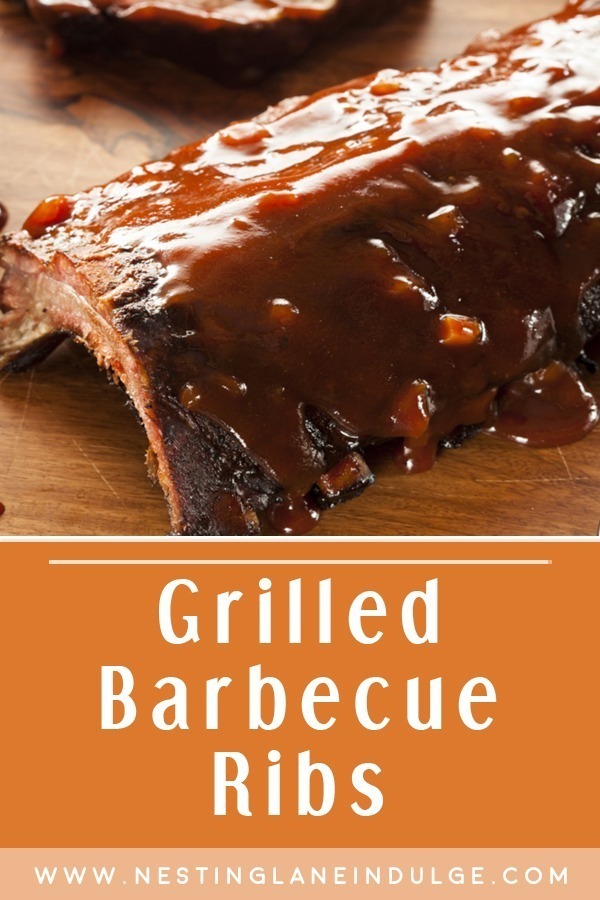 <